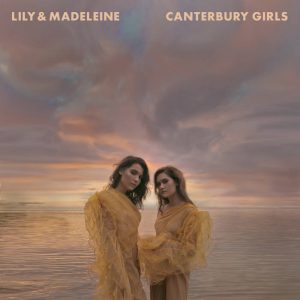 2018 was a big year when it came to break-up songs. In the pop world, Ariana Grande preached self-reliance and empowerment in Thank U, Next. So fucking grateful for her ex, Ariana suggested break ups are manageable if you can learn from the heartache. Meanwhile, indie rock powerhouse Lucy Dacus topped NPR's tracks of the year with 'Night Shift', another, though extremely different, self-sufficiency break-up anthem. "You don't deserve what you don't respect/ don't deserve what you say you love and then neglect," she sings.
Enter Lily & Madeline. The Indiana sisters have been working hard, with three albums released in three years, and instead of the defiance and independence of Ariana Grande and Lucy Dacus, Canterbury Girls is fused with the nostalgia of a good relationship that ended not with a bang, but with a painful fizzle.
In the gospel-tinted album opener 'Self Care', Lily & Madeleine sing of "your beautiful eyes and your blank stare/ I can't make myself care." With the retro Alabama Shakes texture to the song, it's quick to see they have tinged their tales of love loss with a 1970s nostalgia. Though Canterbury Girls is seasoned with sadness, 'Self Care' and many of its successors pitch a jaunty atmosphere.
'Supernatural Sadness' has the kind of sophisticated pop pulse of a band keen to shake off the 'Medieval angels with lyre' image that any sisters who sing acoustic songs are usually stuck with (just ask The Staves), and as reinventions go, this one is largely successful. With slick production and a Fleetwood Mac-meets-Motown instrumentation, Lily & Madeleine manage to avoid the pitfall of producing an album that drowns out their charm.
This said, if it weren't for their rich vocals, parts of the album would feel rushed and even a little cynical. In 'Just Do It' – an incongruously flirty pop song that doesn't quite fit the album's break-up arc – the formula is peeking out from behind the elegant production. When the sisters sing "It's making me, making me, making me want more" the song staggers, snagged by its own catchy hooks, and starts to feel like it belongs in a Nike advert.
The lead single, 'Can't Help The Way I Feel' also has the distinctive whiff of a song that was written to sell, and while their beautiful voices and the wandering Beatles-esque synth solos keep the song from actual failure, the listener is left unconvinced that they actually Can't Help The Way They Feel at all.
Ultimately, Canterbury Girls finds its successes when it sticks to the mission statement: fuzzy nostalgia. 'Pachinko Song' sparkles with energy and intrigue, sensitively undercut by a melancholy that would melt even the stoniest of hearts:
I'm scared my bitterness, written over my face, takes over everything.
I ran through Tokyo hoping to find a place where only I can be.
But I never found it.
The lyrics have that natural sheen of an idea captured fresh off the press, and while it's not a song that'll surprise you, it will move you all the same. Likewise, 'Analog Love' – a wistful look at pre-wifi love – counterbalances its slightly ham-fisted concept with a charming apple-pie earnestness and throwbacks to optimistically simple love in days gone by.
Whether nostalgic for lost love or for bygone eras, Canterbury Girls is stylistic and charming in spite of its growing pains. Lily & Madeleine were wise to close their album, as many have before them, with a tender singer/songwriter ballad, 'Go'.
Now it's five o'clock and I'm drinking
For the hundredth day in a row.
I said I wouldn't leave so easy
But I know you want to see me go; go; go.
It's an old boozehound's sentiment that is refreshing from two singers in their early twenties, and the piano outro (almost parodying the jaunty piano intro of 'Self Care'), demands its listener find a window to gaze wistfully out of. Like the best of Canterbury Girls, it's powerful in its simplicity.
Words: Zander Sharp