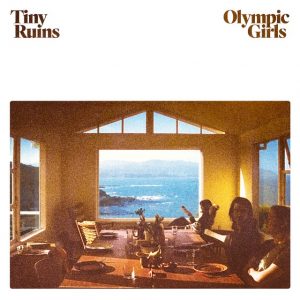 Holli Fulbrook has pursued her own path of artistic evolution. She is now on a different level with respect to the more intimate and traditional acoustic ballads of her debut, but she hasn't given in to the allure of her more tormented colleagues.
Olympic Girls, coming after the interesting but transient Brightly Painted One, is without doubt her most complete record: a flourish of arrangements, recalling in general the style of the new "Laurel Canyon" ('My Love Leda'), together with dreamier ambiences reminding of Linda Perhacs ('Holograms'), donates the right space of expression to Hollie's sparkling melodic inspiration.
Even one of the most "nineties" tracks ('How Much') lives in a context of the greatest artistic maturity. In terms of song output, it was since Fleet Foxes (you can hear their instrumental inflorescences in 'One Million Flowers') that such an enduring record hadn't been released.
Also, style enthusiasts won't be displeased by Holbrook's connection with David Lynch (who produced a single of hers in the past), who is also vaguely inspiring this bittersweet piece of work (maybe in the Miyazaki-styled 'Kore Waits In The Underworld'), in which emotion has to be discovered, rather than thrown in the face of the listener.
In general, this is an album that will be hard to surpass in terms of expressive depth and completeness.
Words: Lorenzo Righetto