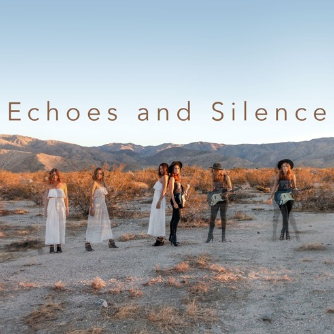 Late last year, For Folk's Sake held Roses & Cigarette's previous Acoustic Sessions in high regard, acknowledging the folk-rock duo for their inherent knack to paint picturesque landscapes with their forward-driving sound. In those regards, their brand new LP, Echoes and Silence is much of the same. Jenny Pagliaro and Angela Petrilli have just as much of a knack for invoking that classic road song sound into their arrangements, but their latest effort unlocks boundless new doors in regards to how they're able to convey their timeless vibe. The production has been kicked up ten notches with a complete band and wholly mastered sound, meaning Echoes and Silence comes full-circle in bringing us a stronger representation of who the duo are in the now.
'Fast As I Can' kicks things off with a stylish rebel flair replete with shimmering rhythmic guitar, longing steel tones, and on-the-mark percussion that does well in accentuating the duo's vocal strengths without overpowering them. It makes for a grand new entrance for a promising Americana band on the up-and-up, evoking elements of country and blues surrounding the hearth of their folk-rock foundation. They rock a little harder with the sway of the album's title track next and give us their own soul-injected take on Joe Cocker's 'Bye Bye Blackbird' not too much long thereafter, bringing the blues in a way unique to their own outfit while feeling like a fitting tribute to performances past.
Roses & Cigarettes team up with notable singer-songwriter Marc Broussard for another true highlight of the album, bringing the taste of a scorched romance and the complicated feelings associated with it right up to the surface. The duet is a match made in roots heaven, too, and a gorgeous piece of work to behold at the new album's center. The album is still replete with gems thereafter, too, from the bonafide swagger invoked in 'Bones On the Ground' that feel plenty more Gregg Allman than Jackson Browne. They paint one of those aforementioned pictures with 'California Going Home' not unlike John Denver this side of 'Rocky Mountain High', then top things off with the gorgeous, yet heartbreaking reverberations of 'Whispers in the Wind (Stacie's Song)'.
For Roses & Cigarettes, Echoes and Silence feels like a revelation. The For Folk's Sake folks have already been fans of them for a good while now, but beholding the full breadth of what this band is capable of in this moment is truly something to behold. Knowing that the more roads traveled to come will only hone-in their resplendent sound further is a treat in itself. While we wait for what's next, Echoes and Silence will fill out the, well, echoes and silence, between.
Words by: Jonathan Frahm (@jfrahm_)