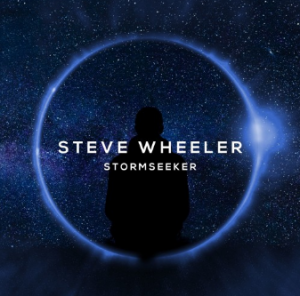 The titular opener of Steve Wheeler's Stormseeker wouldn't feel unfit in a cinematic score. As raucous strings soar with abandon, pounding percussion drives the track forward as it continuously builds in tempo. An operatic section liberates itself as bombastic horns sound off, all until a saxophone blares itself onto the scene with a hefty groove and the composition's epic, classically-leaning arrangement takes a turn into an ebullient EDM soundscape. From the get-go, then, Wheeler established his genius — the acclaimed media composer and producer is known for his knack for eclectism, and here, he embraces it even more fervently. It's a turn that clashes with the soft, patterned atmospheres of many notable experimental compositions this year, and all the better for Wheeler to stand out with a purpose to reinvigorate the field with lightning bolts of sound.
With names like 'Sea of Blood' and 'The Call of the Gallows', Stormseeker's metal inflections are also worn on its sleeve. Each composition is suitably epic without a lull in sight, making for a breakneck listen from start to finish. It might almost seem more at home in an aforementioned cinematic score, which the composer himself is no stranger to, but the inherent charm prevalent in giving an ear to such grandiloquent arrangements is not something that would be lost on many. Riding the line between metal, electronic, and classical leanings is no small task, but Wheeler seems to make short work of the mammoth task with these suitably magnificent compositions. A personal favorite of your humble writer's is 'By the Fire', a track awash with a certain mystic nature that might well invigorate anyone to head off on their own world journey.
For someone who offers his brilliance so often to media, it must feel particularly freeing to produce a work complete with compositions designed specifically for the purpose of being heard. Given the opportunity to expand his horizons, Wheeler bravely took the opportunity by the horns and we are all the better for it. Stormseeker is not quite like any album you might give an ear to this season, its epic arrangements seeming all too suitable to set the soundtrack to anyone's day-to-day.
Words by: Jonathan Frahm (@jfrahm_)