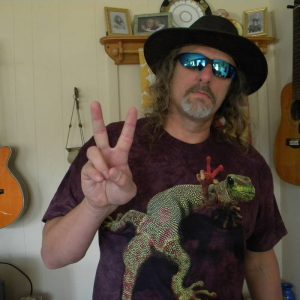 Like the lizard printed on his t-shirt, Matt Kjeldsen's Last Days represents a psychedelic, peaceful movement. One might go on to determine that they both might also stand for bringing a little more artistic flourish into the worlds of those who perceive them—the lizard shirt by laying eyes on it, and Last Days for giving it your ear. While it's evident straightaway from its tinny production that this is a homemade endeavor, what shines here nevertheless is Kjeldsen's cosmic chemistry with the alt-country genre. It's an album not only full of cool musical shifts, but of a crystalline passion from the Austin-based artist towards what he's doing and where he's from. It's the kind of personal storytelling that one might come to expect of Americana, but of which we don't always see.
'Closer to Texas' is the straightest shooter on the EP and the first track that makes it. It's also arguably the most cleanly engineered. Although it may have benefitted from something more than what at least feels like a PC drum kit bringing up its back end, the song's composition itself is entirely solid, and its overall arrangement feels like a down-home country-folk tune. Being the first tune presented to listeners on the EP, too, gives them a good opportunity to lose themselves in Kjeldsen's subtle grit—he has just the sort of natural voice to be able to sing these sorts of songs convincingly. His goals in life may have shifted, but who he is as a person has not, as the song attests. It's a great opener, clearly indicative of Kjeldsen's artistic authenticity.
Kjeldsen navigates follow-up 'I Should Know Me Better Than That Now' with his heart on his sleeve, searing in regards to his vocal performance as a result. Unfortunately, this is where the album's sound engineering begins to falter as his lead becomes a tad reverb-heavy. Albeit, if you've come for the story, you're still in for a brutally honest and captivating set of lyrics that Kjeldsen offers truthfully and wholly through his voice as its soft-settling instrumentation swirls amidst it. The arrangement comes across more on the verge of Southern rock but never quite takes the full dive, teetering into the underrated minimalism of alt-country sentiment.
Elsewhere, Kjeldsen introduces a string ensemble to the EP's title track and actually manages to get away with it in top form. The addition of said instrumentation offers another beautiful layer to his ornately arranged tune, right alongside some hearty proclamations that ultimately come down to sticking to your truths in life without compromise. 'What Once Was' wasn't a personal favorite of this humble writer's, but on the same hand, he can understand the appeal with its intense, rock-driven delivery. 'Ghosts and Shadows' wraps things up even more firmly rooted in the realm of rock'n'roll, replete with bluesy undertones. Kjeldsen feels truly in his element here, closing out Last Days with a memorable stunner.
While Kjeldsen would have benefited from full-on studio production throughout Last Days, that doesn't stop the EP from presenting a set of five well-written and well-performed songs to listeners. Arguably, the Texan singer-songwriter deserves whatever praise he can garner from this endeavor so he can continue ramping things up release-by-release. In the meantime, though, what we're left with isn't bad. It's most certainly worthy of a listen for the quality of the songwriting alone, let alone its variety.
Words by: Jonathan Frahm (@jfrahm_)