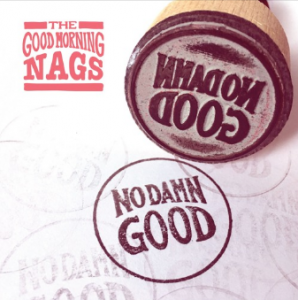 The Good Morning Nags' new EP, No Damn Good, just goes to show that 'short' often does mean 'sweet'. At the very least, it sure does in this instance. The two songs that decorate its quaint halls assure listeners of that. Taking their cues from vintage country and bluegrass and raucous indie folk alike, the Americana collective set out to make a lasting impression in just under ten minutes. They have a base set in three Indiana theatre boys who found each other again in NYC, spanning out to gather other talented musical minds for their band thereafter, and it shows. Astoundingly enough, this offbeat blend of artists make for some cohesively grand work in the realm of roots music, solidifying a space for themselves in the ever-growing Americana market.
No Damn Good begins with the sound of an ignition, well-fitting to the scorching road song that comes out of 'Birmingham' thereafter. In four minutes and four seconds, the band makes their case, crafting a lush soundscape with meticulous, bang-on fingerpicking, driving percussion, and lush harmonies alike. Despite the beauties of the arrangement, it is still every much of a searing, stomp-along song as one might imagine, evoking a vibe similar to the murder ballads of own in its fiery composition before making way for the EP's title track.
'No Damn Good' brings the party to the table and doesn't linger past due with a run-time of two minutes and thirty seconds. For the amount of time it lasts, it hinges on the EP's overarching theme of 'short but sweet' to make its case. Make it it does, too, bringing a celebratory country anthem to their audience without sacrificing their souls to the pop machine along the way. It's an idiosyncratic jam that isn't hard to imagine a room full of folks dancing along to.