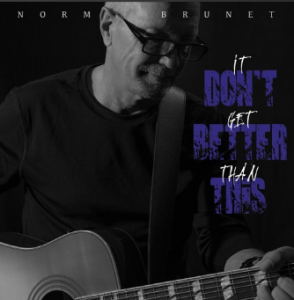 Quebec-born and Ottawa-raised, Norm Brunet was struck with an ironic revelation when he performed to a Nashville crowd for the first time last year. Being labeled by the audience as an Americana artist, Brunet was perplexed and humored, once saying "They don't have Americana where I come from, and no one has formally coined the term 'Canadiana' yet." Where he'd previously been seen as a country artist, it turns out that—indeed—as Brunet's whiskey warm grit traverses hook-laden arrangements chockful of string instruments from guitar, to pedal steel, to mandolin, he is serving a greater amalgam of roots-based influences. Country's a part of the puzzle, but invoking elements of folk and blues into his work while he's at it, this Canadian singer-songwriter is as Americana as they come.
There's something delightfully vintage about the way Brunet traverses the Americana landscape, too. It's radio-friendly, but with a purpose beyond the whoops, hollers, girls, and trucks that pervade country and related formats today. "Pour Me Another One" maintains a contemporary country kind-of sway, but the story it tells is far more subtle with the way it ensnares a listener's emotions. It's a comfortable listen, but there's nothing ostentatious about it. With his new album, It Don't Get Better Than This, Brunet is setting out to create easy-listening, poppy Americana without sacrificing an ounce of compassion along the way—a songwriting tactic that seems to have lost fame on the country circuit, for the most point, in recent times.
Setting his masterful songwriting apart from others in the Americana soundscape, other than immediate accessibility, is his voice. It's as easygoing and sincere as the music itself, complimenting songs like "Can't Stop Thinking" in a conversational way. The best of roots music invites you into the artist's living room for an earnest chat, and this is something that Brunet does time and time again on It Don't Get Better Than This. Without rambling and without any over-the-top musical frills, this is an album that lives up to its name.