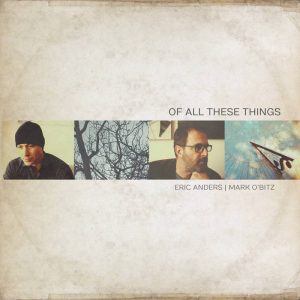 Although Eric Anders and Mark O'Bitz are making their debut as a duo with Of All These Things, the two have been collaborating for 15 years prior to this album's release. Anders made a good impression right out of the gate with his solo career, with instrumentalist O'Bitz right at his side with the 2004 release Not at One. It's blossomed from there across seven other albums from Anders—it's more or less that this is just the first that he and O'Bitz have decided on sharing the billing. A guitarist and composer, O'Bitz compliments Anders' folksy songwriting chops magnificently, and more-so in that these two are no greenhorn, unseasoned duet.
It's evident from the start, actually, that Anders and O'Bitz are quite the opposite. As Anders longingly croons across 'Below The Night', O'Bitz loving crafts gentle layers of sound to swirl around him. It becomes harmony-driven by the second verse, the song's acoustic stylings ever-so-subtly ramping towards a crescendo. The wistful romance of the opener gives way to the haunting melodies of 'Hold On To Me', an almost pop-centric hook keeping listeners in for an emotional ride. 'New Life' carries a minimalist folk approach forward, not unlike the Milk Carton Kids, while Anders and O'Bitz dish out something more of along the lines of country blues with the easy-going percussive progression of 'Eyes of Your Love' – complete with yearning, rootsy pedal steel tones and all.
On the overall, one would not be remiss to call Of All These Things a folk release through and through. It is rife with folksy undertones, from forward and personal lyricism to wistful melodies and rich, roots-laden compositions that offer themselves well as tributes to a collective story. If Anders' eight solo albums prior had never proven that he and O'Bitz are better together, the Americana that they so consummately weave together here proves it tenfold. Here's to many more duo releases in the future!