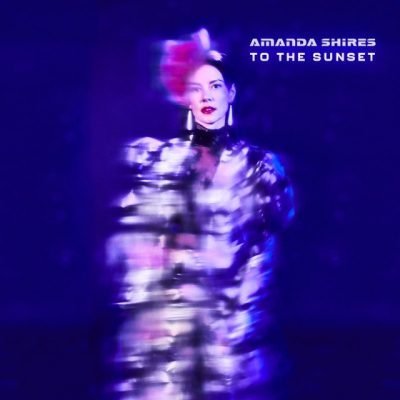 Amanda Shires wrote much of To The Sunset hiding in the closet of her Nashville home, but she opens the record by gazing at the stars on 'Parking Lot Pirouette' – "the stars, the shapes the constellations make, the burning jewels suspended in air". It's a fitting image with which to introduce this extraordinary record. The former Texas Playboys fiddle player has crafted an album which isn't quite cosmic country, country rock or anything else we've heard before, but might just be defined as space country – operating at levels in no known atmosphere. The AM radio-friendly sounds of 'Leave It Alone', the crunching rock of 'Eve's Daughter' and the old-fashioned country feel of 'Charms' are all held together by a common thread, harnessed by producer Dave Cobb who brings with him hints of the palette he used on Sturgill Simpson's Metamodern Sounds in Country Music to express Shires' vision.
At just 32 minutes, To The Sunset races past, and this might be the only real complaint because it had the potential to be a truly immersive experience if only it stuck around a little longer. As a string of fast-paced tunes whistle by, you might only grab snippets of lyrics which clearly benefit from the MFA in creative writing Shires earned before starting work on her sixth LP. Listen carefully, and there are dozens of knock-out couplets. Once 'Parking Lot Pirouette' has descended from the stars, we hear Shires turn the tables on her man with a knock-out line. "You said, 'You won't be gettin' far before you turn around' / I did a parking lot pirouette / I said, 'You're right, I'm not done with you yet.'"
On 'Break Out The Champagne' Shires reflects on an in-flight emergency and figures to hell with it all. "Break out the champagne / Everybody look out below / Let's get on with the shit show / Here goes a toast… adios!" But the greatest lyrical knockout is saved for last. 'Wasn't I Paying Attention?' is the story of a guy who borrows a pick-up, drives it to the middle of town and slits his own throat before setting fire to the truck – all told from the perspective of the friend that lent them the keys. "It was a regular mornin'/ no red flags or warnings/ no, nothing suspicious" Shires sings before the story reaches its end with the lighting of the match. That is also the end of this record, a remarkable half an hour which will have you stretching it out with repeated listens.