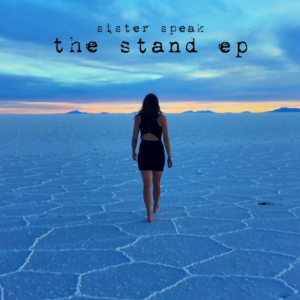 At the core of Sister Speak is an enlivened soul. Los Angeles-based Canadian artist Sheri Anne is intent on using the moniker to funnel forward an admirable purpose—to craft inspiring, inspiriting, and innovative music. So, when it's said that Sister Speak is a folk act, we're painting with a broader brush than usual. In all actuality, the project isn't definitive of any one genre, instead leaning of emotive storytelling and a passionate delivery that bends typical classification standards.
Sheri Anne is keen on adapting elements of our musical roots at large into a fine, pop-ready blend of songs. At the center of each one that decorates her new Stand EP is an intent to empower, and she does so without being too on-the-nose with it either. Forgoing any cheese, this is deftly-crafted folk-pop artfully developed by a woman for the empowerment of all women, all minorities, and all of those in need of a heartful pick-me-up.
It's not all about rising to the occasion, either, as Anne captains Sister Speak to speak to the realities of life, as well. In 'The Fighter', for instance, we find Anne at a crossroads wherein her sunny demeanor may not always represent what is going on inside of her head. Nevertheless, it maintains a perseverant message meant to encourage listeners to keep on keeping on, regardless of what stands in their way. Musically, she does so with an almost surprisingly mellifluous flow of instrumentation that soars alongside her layered vocals.
Albeit, the songs that For Folk's Sake readers may find the most solace in are the ones that decorate it from the top and bottom. Bonus track 'Catch Me as I Fall' bookends the EP and really shows off Anne's vocal capabilities without any of the extravagant electronic frills that pervade the four tracks between it and opener 'New York Sunrise'. Synth still permeates corners of the track, but it plays second fiddle to percussive piano rock similar to the likes of early Sara Bareilles. It's a well-balanced and invigorating arrangement that paints a picturesque vision of the titular city and all of its bustling life.
All in all, Sister Speak is a project brimming with promise. Sheri Anne is a great songwriter with an obvious sense of self, as well as a set of beautiful intentions when it comes to how she would like her art to influence the world. We've come a long way, but there's still some work to do, and Sister Speak succeeds in adding more voices into the fight for women's rights and empowerment.
For more on Sister Speak, visit their official website.