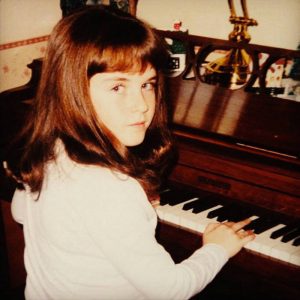 Dear reader, have you ever become acquainted with an individual, get to know them for one thing they're very good at, and then be positively shocked when you discover that, "Hey, they are also very good at this other thing!" If you can relate to that wholly ineloquent statement in any way, then you have been in the same spot as this humble scribe at one point in your life. Such is his relationship with the work of Caitlin Pasko, who, up until recently, he had thought was only one of the luminous minds behind Drunken Piano PR.
As it turns out, this artist is a Caitlin-of-all-trades and also has their heart set on writing and performing music. And on Glass Period, it is wholly evident—from its opening breaths to the final moments of muted synth transforming into pulsating silence—that this music is brilliant.
The brilliance in the six songs representing Glass Period isn't foremostly in its full, rich production (although it certainly helps). What sells it straight away is the songwriting paired with how Pasko is able to navigate it. Artists develop a special connection with their listener when they produce something more than just a slick riff and a singalong earworm. In the sheer depth of the heartfelt sentiments that Pasko lays out on the record, one can assess that she's an artist who gets that.
Yet, the music that Pasko sets forth to deliver to her listener's ears feel like self-revelation. This doesn't feel like a record written to inherently relate to another person's emotions more than it feels like Pasko letting her heart out onto the pages of her journal.
[bandcamp width=100% height=120 album=2021122258 size=large bgcol=ffffff linkcol=0687f5 tracklist=false artwork=small]
Better yet, this affair is not saccharine, but rather, heartrending. These are not the usual proclamations of love or even heartbreak that you've come to expect from most other records being brought into the world on a near-daily basis; rather, this is a record that expels the harshest of truths in anger or in sadness. They're about the full-on consumption that grief following heartbreak can bring you, no matter what the specific sort of loss is that you are facing in the moment.
These are songs for those who have loved greatly and ultimately lost all the same. The music itself is beautifully and clearly meticulously crafted, treated with a certain graceful touch from producer Henry Terepeka. Pasko's warm vocals are instantly memorable, sliding smoothly into her work headfirst and tackling emotional freefall with an astounding amount of serenity and eloquence.
What sells it best yet, though, is the truth, and that is the greatest identifier of Pasko's delivery. This record is for those that need healing. It's the shoulder to cry on in your darkest hours, offering solace and letting you know that it's okay to edge back into the light at your own pace. Not discounting the musicality on display, however, it's also a brilliant collection of songs for those who simply appreciate fine musical structure (the progressive nature of 'Me Alone's' last minute or so would light any jazz enthusiast's mind afire) or homerun production from our rising songwriters and engineers.