Angel Olsen consistently confounds one's expectations. What you see and what you get doesn't seem to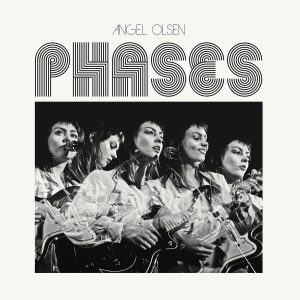 match up. There's a disconnect between the young woman you see and the seasoned artist who sometimes makes music so dark you wonder if she's channeling a spirit from a different plain. The release of My Woman in 2016 made her a budding star. Having spent a this summer on the festival circuit, with stops at Pitchfork in Chicago, Glastonbury, not to mention a sell-out at the Roundhouse Theatre in London, there really hasn't been the time to ready a new album. Hence, Phases, a compilation of tracks ; some that didn't make it on to My Woman, along with singles, rarities and demos that illustrate the many sides making Angel Olson unique.
Fly On Your Wall was recorded for an anti-Trump fundraiser earlier this year. Taken in that context, this slow moving march has Olsen coming to grips with what has transpired, "To have the glimpse of the dream, the vivid memory." It's been a long strange ride that just keeps getting stranger. On the other hand, Special is a slow burning treatise on the fear of not meeting one's expectations. Olsen offers her own take on these two tracks, "They're both real dark, John Cale, Velvet Underground inspired, real wirey sounding… One of them goes on for 9 minutes. It's its own piece, in a way."
There's something claustrophobic about a song like Sans, the low-fi recording creating a lonesome fragility. The electric Sweet Dreams that follows sounds huge in comparison, yet the opening lines illustrate how contrary Olsen can be, "Every time I close my eyes something small within me dies." And that's followed up by a demo of Bruce Springsteen's Tougher Than The Rest that sounds as if it could have been written specifically for Olsen.
While going from full band tracks to simple guitar demos can be a bit disconcerting at first, this warts and all sort of approach works well. Olsen is an artist who has never shied away from the difficult moment. She is constantly willing to reveal who she is and what makes her tick. Phases looks behind the curtain, providing a chance to see what makes Angel Olsen tick. It may not be a perfect place for the uninitiated to start, but if you've already fallen under the spell, the only thing that will be confounding is how much talent can one artist have.
Words: Bob Fish