Courtney Barnett and Kurt Vile aren't exactly media darlings yet, but that doesn't mean they won't be soon.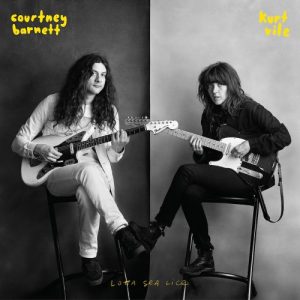 Lotta Sea Lice, their joint venture seems to defy expectations, creating one of the most surprising discs of the year. It doesn't sound like an album that took fifteen months to record, because in a sense it didn't. The issue was getting Tasmanian Barnett and Philadelphian Vile in the same place at the same time. They found eight days to record the album during a fifteen month span.
Vile's 'Over Everything', actually set the process in motion. He as wrote the song with Barnett in mind and alternating lines already in place. Having become friends on the festival circuit the process makes sense. It also sets a tone for the album, becoming a treatise on songs and their development. Similarly, 'Let It Go', offers more hints on the song writing process, "What comes first the chorus or the verse? I'm a bit blocked at the moment."
Largely a jangly electric effort, 'Fear Is Like A Forest' – written by Barnett's girlfriend, Jen Cloher, is less jangly and more dark than most of disc, which reflects an easy going almost laconic vibe. While some of the lines may feel like they're just thrown in, nothing could be further from the case.
In addition to six originals, Vile covers Courtney's 'Outta The Woodwork', while Barnett covers Kurt's 'Peeping Tom'. What makes these songs unique is the perspective that each brings to the others work. They inhabit the songs and find nuances that were immediately obvious in the originals.
'Continental Breakfast' casts its eye toward the notion of intercontinental friendships and how they develop over time, "we talk it over continental breakfast/In a Hotel in East Bumble-wherever/Somewhere on the sphere, around here." Anyone who is constantly on the road can attest to the feelings of being unsure where they are, both in the world and in their own head.
 For a mutual admiration society, Barnett and Vile have created a disc that serves to show the strengths of both while keeping things relatively light and breezy. These indie darlings have created a disc that is takes the duet into the twenty-first century, creating something on a par with Emmylou and Gram, which is no small task.
Words: Bob Fish