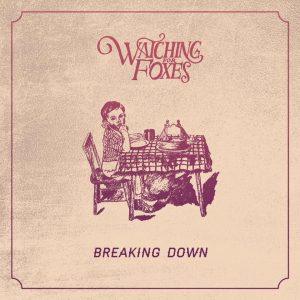 Fronted by For Folk's Sake's very own Joey Frendo, Michigan-based "sweater rock" band Watching for Foxes have caught the eye of Americana fans around the U.S. following their first nationwide tour with Folk Family Revival earlier this year. What began as a few high school chums gathering around in a maths classroom to dish out some tunes has quickly metamorphosed into one of the most exciting bands to come out of the Mitten since The Accidentals and Crane Wives.
Now, the burgeoning trio is pushing ahead with a sophomore full-length in 2018. At the front of the line in promotion for the incoming record is "Breaking Down", the lead single from off of Nostalgia in America. In its recent premiere over at Mother Church Pew, Joey described the song as "multi-faceted" and a musical perception of "American mythology and how our human condition is at odds with it." If it's going to be called out for being political, it is the most universal and humanized form of politics we've seen.
The band remains candid on this scorching roots rock ballad, calling out the more capitalistic, questionable actions of a country that so completely relies on its public image of freedom. It's the definition of folk attitude, given a warm, sympathetic, and universal standpoint from the gritty storyteller's vocals of Joey Frendo and Geoffrey Kartes. Jared Meeunwenberg keeps things steady with his rolling guitar riffs that, from the opening moments of the song, mark a memorable, more digestible new sound for the band.
Words by: Jonathan Frahm (@jfrahm_)