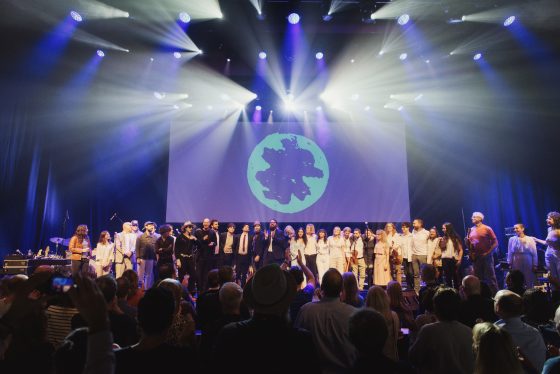 "It's difficult for me to get across to you all how joyous this is for all of us." Matthew E. White, bedecked in a dark suit and with his flowing locks constrained in a bun, almost shyly leans into the microphone. But he cannot hide the beaming grin on his face. Here on stage is the full realisation of more than six years of work on the Spacebomb project. This Revue brings together 11 artists either signed to the label or who have recorded in their studios. The Barbican Centre might not seem the most obvious place to celebrate a product of Richmond, Virginia, but as White says more than once, "you guys have always really appreciated the music that we make, you listen to it differently".
No detail has been missed in making this a proper showcase for Spacebomb. The full house band has been flown in, not just the core rhythm section but both the string and the horn ensembles. In front of them comes a rotation of acts, no two alike as they range from the cosmic country of Karl Blau to the smooth funk of Howard Ivans to the star power of the Waterboys' Mike Scott. Spacebomb's own in-house songbird Natalie Prass opens the show with a stirring rendition of 'My Baby Don't Understand Me'. More than anyone else on the bill bar perhaps White himself, Prass fully utilises the full Spacebomb toolkit, and it is a real – and rare – treat to hear her live with both ensembles on hand to bring the songs fully to life.
But as soon as your ears have adjusted to one style, the next act rips up the script. Cocoon follows with something approaching big band swing before Scott swaggers in to deliver two songs from the upcoming Waterboys record, the big AM radio sounds of 'Love Walks In' among the highlights of the night. We're then introducted to Andy Jenkins, co-writer of White's own Fresh Blood, and with an album of his own on its way. Blau's next. He comes across as a dazed and confused space cadet, but his groovy twang gets in your head, and mental notes to snare his upcoming record Out Her Space are duly made.
After a brief intermission – we are at the Barbican after all – the backing bands return but we're on to the second batch of star acts. A brief instrumental blast from the band only serves to beckon slow-movers back to their seats before Bedouine, owner of Spacebomb's latest release, takes to the stage. White tells us how she approached him herself with a demo tape and that, while he usually won't get past the first chorus of any such submission, he kept coming back to Bedouine's while out on tour – with it becoming such a staple of the van that his guitarist set one of the songs as the alarm on his phone. As soon as Bedouine starts playing you understand why. Her voice is that of an angel, her playing pitch perfect. But what elevates this out of the ordinary is the measured accompaniment of the Spacebomb strings.
The gear shifts keep coming, from the dirty blues of Georgie to Ivans' delicious grooves, accompanied by an equally delicious story about Ivans signing on to the Spacebomb project over fried chicken with White. White himself has been noticeable for keeping out of the spotlight, introducing others but yet to treat us to one of his own songs, though that partly changes when Prass returns to join him on a rare rendition of 'Cool Out', the duet released for Record Store Day in 2016. Next, Foxygen stagger on to the stage. White recalls how the Californian duo arrived at Spacebomb with a 'Broadway musical' of an album – Hang Out – and told the label's arranger Trey Pollard to go nuts writing arrangements for it. He duly did, and it makes for a stirring live show, even if Sam France doesn't always remember to sing into his microphone as he dances around the stage. London's own Charlie Fink emerges to recite a couple of sweet songs from his new solo record Cover My Tracks, which also got the Pollard treatment, before another of the night's highlights appears in the form of Slow Club's 'In Waves' – Rebecca's voice towering over the wall of sound coming from behind her.
As the time ticks down, we finally get a White solo track. He tries to make out like 'Rock and Roll is Cold' is going to be the final tune of the night, but is kidding nobody. After the shortest of pauses Bedouine reappears to play 'One of These Days', a song you'd struggle to believe is not a folk standard. One more White solo song will bring the curtain down, but this time just about everyone squeezes on to the stage to rip through 'Big Love' – a fitting celebration of a label and a studio that does things its own way, with brilliant results.
Photo: Nick Helderman