Sophia Marshall isn't afraid of making tough choices. Leaving the relative security of The HaveNots, she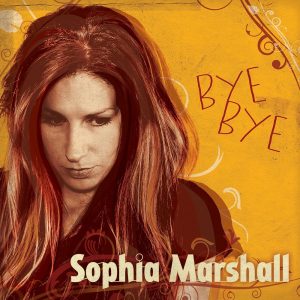 took a new road, working as a backing singer to the likes of Be Good Tanyas, Tift Merrit, and Frazey Ford. Following nine years supporting others, she has returned to the fray with a new album, Bye Bye, looking to break new ground as a solo artist.
Where The HaveNots were most decidedly Americana, Bye Bye is much harder to categorize. Marshall is now an artist unwilling to be put into a box. Her work is fresh and unrestrained by categories. She seems to revel in the chances she takes, staking new territory stylistically on these nine songs.
Opening salvo, Bye Bye, isn't angsty or overwrought, yet tells the tale of a relationship at its end. Sophia's sister Sarah echoes the main lines of the refrain to Losing You, an old HaveNots track that received a new middle eight dealing with Sophia's first lonely Valentine's Day in ten years. "Oh does she know when I woke up on Valentine's Day? Oh does she know where I woke up on Valentine's Day?"
Produced by Andy Jenkinson, Bye Bye deals in shades and sounds that go far beyond the norm, encompassing everything from indie-pop to trip-hop. Vocals are treated as another texture, especially on Hey Al, Woah!, a treatise dealing with the concept that no means no. Multiple tracks are used to create maximum effect. Closing the album, Drunken Sailor, is a modern take on traditional themes, benefiting from the sounds of seagulls and waves, along with Jay Hardy's vocal track adding a special dimension.
Over the course of just thirty-one minutes Sophia Marshall establishes her solo credentials. She has used the break since The HaveNots to create a musical and lyrical landscape all her own. Moreover, she has grown in stature, ready to take her own voice and start all over again.
Words: Bob Fish