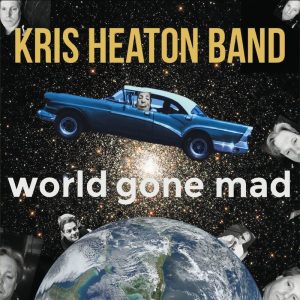 Towing the line between blues, rock and even pop sentimentality, Kris Heaton has won a multitude of awards for his deft ability to mesh genres together into his own spatial sound. As far as indie outlets go, Kris rocks the folk mentality of pushing forwards in full-on grassroots style, having six albums to his name so far and four separate occasions where the Connecticut artist that could actually hit national charts for his artistic efforts. Furthermore, the dude has opened for the likes of Leon Russell, Gregg Allman, Molly Hatchet, and more.
The bottom line is that he's got his fair share of accolades to tow around for an artist who seems to have only hit it off regionally. That means that, when people like Russell or Allman's PR teams decided to pick him up as an opening act, or when he won the Miller High Life Rock to Riches award for his music, that it really was sheerly off of the strength of his own artistry.
While perhaps antiquated, Heaton's tunes call back to a more anthemic time for rock'n'roll, where power pop and classic rock ruled the roost and turned out some of the most iconic songs of the 20th century. This much is perhaps especially evident in World Gone Mad's titular track, which takes on a Bowie-esque riff and rides with it through an old-school backbeat. Opener "Who Let the Bullets Fly" is a driving roots rocker with philosophical gusto, and "Danced in the Rain" harkens back to the kind of traditional country melodies this side of George Strait.
The miraculous nature of Heaton's songwriting expertise has him equally matched across each iteration of himself. Whether he is a gritty folk crooner or a stadium-filling rocker, he takes on each song with the same level of care and professionalism as the last. While the one criticism withstanding might be that the album as a whole doesn't come together conceptually in any sort of meaningful way, each individual track held to on its own is a fine example of self-made music.