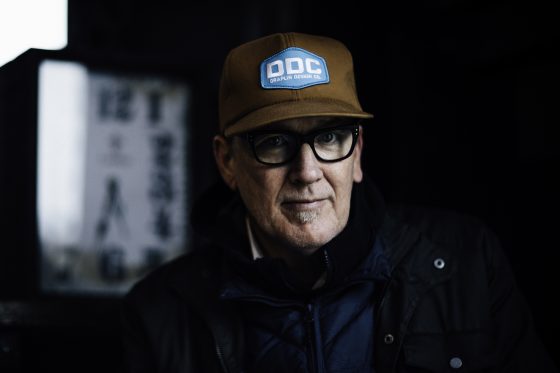 Nashville's Lambchop have morphed into an intriguing live prospect in the wake of last year's critically-lauded Flotus album. Once a sprawling southern country-soul collective whose stage-presence stretched into double figures, tonight be-capped frontman Kurt Wagner is joined only by bassist Matt Swanson and pianist Tony Crow.
This slimming down is largely due to the recently procured fourth member of the line-up – Wagner's vocal processor. Fans of Flotus will be familiar with the eery, fluid autotune which colours the LP, turning Wagner's often wordless vocals into an instrument in their own right. Laid across bleeps and drones, those songs, and older ones, are bent into new shapes again tonight. It begins with 'Writer', Wagner gently punching his warped, bright words out, standing behind a battered suitcase which props up the processor, his hands playfully pointing along to the fluttery loops.
Tracks that pre-date Flotus, including 'B2B', are given fresh vocal twists, while others like the haunting 'Gone Tomorrow' are stripped down, minus beats. Occasionally, the absence of live drums is noticeable and Wagner's guitar isn't always easy to hear, despite the crisp PA sound being spare enough for the audience to pick up the singer's feet tapping on the sticky floor. But when band and electronics combine to lock into a groove on 'JFK' the effect is spellbinding and transcendent.
There's a slightly chaotic sense that things could derail, which is where Swanson's bass comes in, effortlessly pinning everything down with time-perfect precision – providing trusty tent pegs for Wagner and Crow's lively flysheet. The latter's loose, jazzy piano tinkles, bursts and interjects soulfully, his refrain on the re-worked 'The Hustle' echoing the original riff from its 1970s parent tune brilliantly.
Crow also serves up hilarious, sometimes filthy, between-song banter throughout the evening. This offers light relief to the political mire on both sides of the pond, which the band reference, and the simmering undercurrent in Wagner's writing – most notably the 12-minute 'In Care of 8675309' which sees his autotune outbursts build in intensity over multiple verses.
The laughter is turned up to 11 when, in Spinal Tap fashion, the trio attempt to exit for the encore to find the stage door won't open and instead pile into a storage cupboard. "It's the first time we've ever been locked onstage," jokes Wagner.
Having earlier heartened the sell-out crowd with beguiling material from her Heirlooms And Hearsay album, Roxanne de Bastion joins Lambchop for their closing song, a cover of Prince's 'When You Were Mine'. The stage door is unlocked, and the group are finally able walk off to appreciative applause following a truly unique evening.
Words: Pete Bate (@petebate)
Photo: Jo Bongard