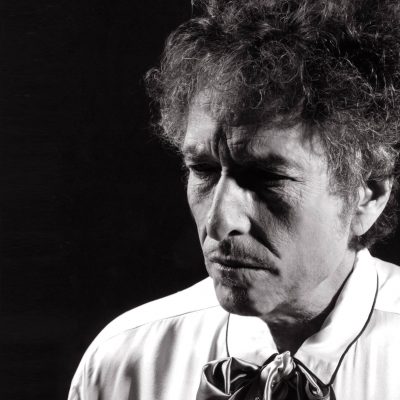 For someone who has been on the same tour since 1988, it seems strange that the London Palladium is a venue that Bob Dylan had never played before these three shows. Even in his Nobel Prize acceptance speech, Dylan said that he aspired for his songs to be heard one day in "places like Carnegie Hall, the London Palladium", which suggests that perhaps it has always been a target of his to play there.
There is an air of anticipation in the auditorium of the Palladium before the show begins. Throughout his lengthy career Dylan has always confounded expectations, most recently with his string of cover albums which delve into the Great American Songbook. What will tonight bring?
The band emerges from the darkness with Dylan following, before he shuffles in behind the piano. The lighting flicks on and they start a charged version of Things Have Changed, the song which Dylan won an Oscar for in 2001. The gold figurine sits proudly on a table beside him.
Next the band launches into a jaunty version 'Don't Think Twice, It's Alright'. Tonight's take on it, with Dylan's crisp, gravelly voice, is far removed from version which appears on The Freewheelin' Bob Dylan. It is someone talking to an old flame forty years after they parted, rather than a broken-hearted twentysomething.
Perhaps that is the key to the success of this concert. Dylan treats each song with reverence. Even the originals he sings as if someone else wrote them.
The intimacy of the Palladium suits the band's current sound, best heard during the Great American Songbook numbers or the tumbling blues songs. During 'Love Sick' and 'That Old Black Magic', for example, as Dylan drags the microphone stand at an angle in a crooner-meets-Charlie Chaplin style, fidgets with his jacket and shifts from right foot to left, his voice finds its own space and melody within the majestic music that his band creates.
The main set culminates in a smooth rendition of 'Autumn Leaves', before Dylan and his band return for a brief encore of 'Blowin' in the Wind' and a hair-raising 'Ballad of a Thin Man', with Dylan thumping and pounding at the piano.
During the past couple of years, we have lost some of the giants of music. Bob Dylan's fans are blessed that he is still on the road and not afraid to mystify them.
Words: Toby Sligo