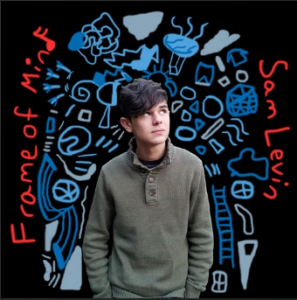 Few things in this world can sway this writer into even partially believing that there is such a thing as a fate that wasn't malleable, but the story of how Sam Levin got into music is one such tale that moves him. Allegedly, the New Yorkian singer-songwriter's career in the musical arts began at just the tender age of five-years-old following a visit to a local music store where he pointed at a guitar and proclaimed that he wanted it.
While he could've been like many other precocious performers in the modern age and take to YouTube or a show like The Voice to perform a series of covers for the masses, Levin had decided for himself early on to take on, purely, his own original songs in performance. He hustled between the ages of seven and 11, which eventually became his first EP at just 12 years-old before turning his sights on developing his first full-length effort. His debut EP is here now in the form of 2017's Frame of Mind, but what is the end result of this now 15-year-old's pursuit of a full-length record?
Decidedly, it's all actually rather good. Whereas one might have a clear picture engraved into their mind of just what a 15-year-old performer should look like, showboated out by a major production company to be their next pop drone show-horse, Levin takes that image and tosses it straight into the trash bin. Instead, he veers left and he veers right—anywhere but straight ahead towards any preconceptions about his musical ability that might crop up because of his age.
The arrangements on Frame of Mind come from a studious place of reflection. They're more akin in their production and delivery to an alt-j or Bon Iver record than anything Bieber or Grande would've put out at the start of their careers (or now). It is an astoundingly thoughtful, artful work of an album that ascends above expectations to deliver something introspective and full of an individual soul. Unusual and upbeat, this is going to be one to remember.
For more on Sam Levin, visit his official website and Facebook page!
Words by: Jonathan Frahm