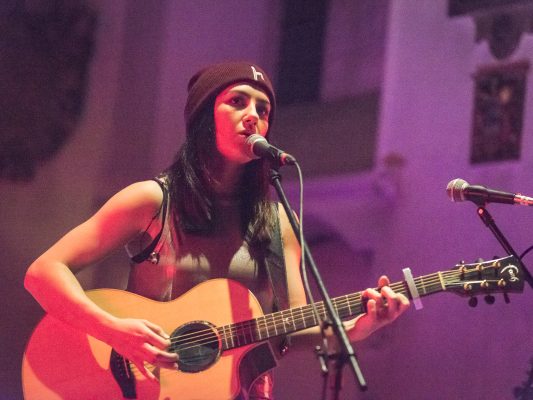 Hannah Trigwell is a singer-songwriter who has garnered much popularity through YouTube and other social media. Starting out busking on the streets of her home town of Leeds, she began recording cover songs for YouTube and eventually releasing her own folk-pop material online. Always presenting a very polished and carefully crafted appearance and sound in her videos, I was curious to see what the "real life" Hannah Trigwell was like.
The diminutive St. Pancras Old Church, a tiny chapel set in parkland a stone's throw from the station, was fairly full by the time Trigwell came to the stage. Support was ably provided by two young talents, Joe Dolman and Charlie Austen. Dolman opened with half a dozen songs, including a cover of Alicia Keys' 'If I Ain't Got You'. His original pieces show creativity in their lyrics, his voice harbouring the sound of more experience than expected. Charlie Austen stole the show for me, not only her music, but also her dark humour on stage. Her lyrics are clever and tell a story, balladic and folky, and her sound varies between jazz and more standard signer-songwriter stuff. Her descriptions of her songs are charming, but also unsettling: "Copenhagen, an upbeat song about the death of a loved one", "Slave to chemistry, a sexy, groovy song about mental health". Definitely one to watch as she develops her solo career.
Hannah Trigwell comes to the stage in her trademark beanie, alone. She seems nervous, unsure, already dispelling that carefully crafted online persona. The lighting is not ideal, the acoustics not well controlled, in contrast to her beautifully shot videos and photos. Before starting, she warns us that her songs are emotional, that we will need tissues, and that she's not kidding. Kicking off with a couple of original songs, 'Give It Up' and 'Miss You', she heads for the more familiar territory of an Ed Sheeran cover, 'Shape of You'. Like the artist she's paying tribute to, she uses a loop station, but sparingly, not relying on it heavily. She flicks seamlessly between electric and acoustic guitars: 'Taboo' is followed by two acoustic tracks penned with Corey Fox (FØNX), including the very catchy 'Another Beautiful Mistake'. It's after this stage that the disillusionment starts creeping in for me: the vocals are not as crisp as they should be, the promised emotion is distinctly missing. It could be nerves, being in front of a 'real life' audience. Indeed, Trigwell doesn't seem to connect with what she's singing or begin to enjoy herself until her set is almost over… the driving beat of 'Rectify' elicits some enthusiasm, at last. However, her cover medley of 'No Scrubs/Ms. Jackson' is awkward and her latest song, 'Without You' seems rough around the edges. The closing song and forthcoming single, 'Nobody', is the only song the audience get into, clapping out the beat in lieu of a drummer. It's been a frustrating set… I feel as though had Trigwell just cut loose from the get-go it would have been a far better experience for all concerned, artist and crowd alike. As it was, it was subdued, restrained and at times awkward. For a seasoned performer, I was surprised at the lack of showpersonship, and overall, the lack of that connection between performer and audience that makes for a memorable gig.
Words & photos: Paul Woods (@paulwoodsphoto)