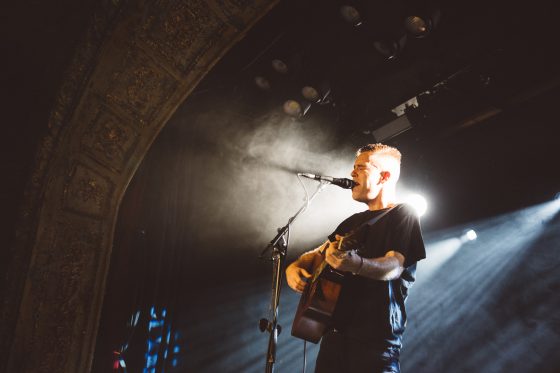 Following the successful release of his debut album, Last Smoke Before the Snowstorm, five years ago, Benjamin Francis Leftwich unexpectedly vacated the spotlight. His sudden departure in 2013 to grieve the devastating loss of his father lasted three tumultuous years. In a Facebook post last year he wrote a searingly honest account of that time, saying "I was helpless. Without purpose", before continuing, "It totally broke me", and revealing to his fans that he found himself "on a self-destructive path that pushed me right to my limits both physically and mentally". Last week, with signs of the same fragility, he returned to the stage, headlining the first of two sold out gigs at Omeara (the second was this week), the stunning new venue from co-founder of Communion label and one of Mumford and Son's, Ben Lovett, near London Bridge.
I'd been looking forward to seeing him play, a fan of his beautiful melancholy and hushed, breathy vocal. The small, open stage seemed the perfect platform for the intimacy his deeply personal songs crave. But even before he'd reached it, there was a disquieting vulnerability to his presence. His first support act, his 'brother', Travis Is A Tourist, a northern Irish lad bursting with energy and character, dutifully returned to set the stage, tuning Leftwich's guitars and placing a laminated square of what looked like family photographs behind one of the speakers and an organic tea by the other. Then, as Leftwich entered the small corridor stage left, he immediately hid behind the small slither of velvet curtain next to the steps, swiftly followed by Travis who appeared to take the mantle of comforter, hands on Benjamin's shoulders and giving him what looked like a pep talk. Then they hugged before a couple of other nodding heads gave him that 'you can do it' look and he made his way, head bowed, on to the stage.
Picking up his guitar, he went straight in with 'Tilikum', the first track from his second album, from which a lot of songs have been spawned from that tumultuous time. His joules visibly shaking, along with his hands, he looked painfully nervous. Then he did what he did so much throughout his performance, and moved away from the microphone and stood at the front of stage, within touching distance of the audience he seemed almost too scared to look at. Within the first string of his guitar, he'd silenced the room, the soft strumming supporting lyrics that spoke of loneliness and self-reflection.
Then came two familiar songs from his first album; 'Pictures' and 'Stole You Away', both baring his trademark minimalist instrumentals and whispering tone. Still appearing nervous he looked across the room, thanking the 350 strong-crowd for being the "most polite, potentially most respectful, and potentially high". Continuing, "I played in a place called New York City once and a guy was punching people". "What a dick", he joked.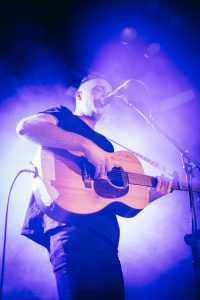 Then the latter of these two, the echoed-sounding 'Stole you Away', which appears to be about lost love. After the applause, the crowd slipped back into silent anticipation. "I'm a million times more nervous when it's so quiet", Leftwich quipped, "so apologies if I talk a whole lot of shit". "Has anyone seen me play live in London before?" he asked. "Thanks for coming back. Here's an old song", he said before launching into 1904.
Then he continued to weave in and out of old and new, moving round the stage between songs in the odd primate-like fashion he does. At times he stood on the edge of the stage or at the mic and stared with an awkward intensity into the crowd, a bit like someone trying to find love in another persons eyes. His whole presence was paradoxical; wanting to connect with his audience but always keeping slightly at bay.
He swigged from his tea and said "Four more songs for you beautiful people. Is that ok? I feel like I'm dreaming or hovering on a cloud. It's the most chilled out gig I've ever done. Here's another new song". 'Cocaine', a slow, dark track performed under moody blue lighting. At the end, Travis reappeared on stage to change a guitar, followed by another comforting embrace.
As the gig neared an end, he asked the crowd "If I play a song will you sing along with me. I'm going to come down there", he said as he pointed into the crowd. It was his swansong, 'Shine'. He moved around the beautifully distressed room, made to look like an old crumbling theatre beneath a railway arch, as the audience whispered along and he performed unplugged. As he made his way back to the stage, he sang the final line into a fan's phone. It was the one and only time he seemed to let himself be free.
"This feels like a hometown show to me. I moved to London three years ago. It was the best f**king decision of my life", he reflected, before ending with Don't Go Slow. See you soon, he said before leaving the stage.
Back for an encore, someone shouted "Ten more, we love you". "I love you too my brother" he said. "Thank you so much for having me back on". He then sang 'Kicking Up Roses', the fourth track on his latest album, another soft, hushed hymnal number. He finished with 'Atlas Hands', a more hopeful sounding track that wouldn't be out of place on a Richard Linklater film. Then, he bowed, and in a final private sentimental gesture, raised the ring on his finger to the ceiling. It seemed as if the emotional rawness that had pushed him to write the new album was still achingly evident.
Words: Kate Leahy (@jumbojetsetter)
Photos: Jonjo Rooney (@jonjorooney)