The synth blast, urgent backbeat and whirling guitars that kick off Real Estate's fourth LP augur well. You'd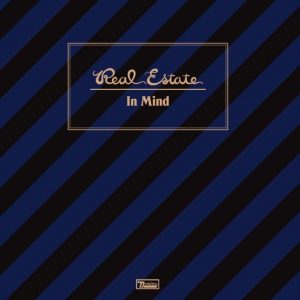 never accuse the New York band of urgency; they're more prone to meander down melodic rivers with their jangle pop influences bobbing in their wake. But, though their deadpan archness remains (check out the accompanying video where they refuse to crack a smile while, literally, horsing around), opener 'Darling' signals a statement of intent.
With new guitarist Julian Lynch on board, replacing founder member Matt Mondanile, producer Cole M.G.N. (Snoop Dogg, Beck) has added a bit of heft on the follow-up to 2014's Atlas.
After Atlas, frontman Martin Courtney's sweetly impressive 2015 solo set Many Moonsproffered a string-bathed take on Real Estate's raison d'etre. Back in the fold, he sings "there's no place I would rather be right now" on the lush 'Stained Glass' which ups the ante ahead of dreamy ballad 'After The Moon' and the near seven-minute 'Two Arrows', featuring a backmasked Byrdsian chorus and deft minor chord middle-eight.
This is a band growing by increments rather than bringing the mould, which is why the shortest song 'Diamond Eyes' is the closest they get to a revelation with its simple folky refrain: "it's a time to be humble/a time to be free/a time to raise our voices loud and not go quietly". It feels like the usually timeless Real Estate are acknowledging 2017, and probably the pear-shaped state of US politics.
Followed by Britpop-tinged shuffler 'Same Sun', the fivesome keep their foot on the gas to the end, even if still willfully stuck in third gear. Their fans will love In Mind but the uninitiated may need a few listens to get up to speed. Either way, it's a solid place to start the Real Estate journey.
Pete Bate
@petebate