At this point Alynda Segarra is Hurray for the Riff Raff – her songs, her music, her vision. Leaving the Bronx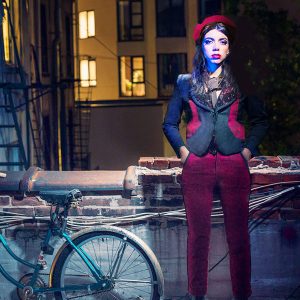 at the age of seventeen and riding the rails like a female Woody Guthrie, Segarra spent three years exploring America before settling in New Orleans. Ten years passed and over that time Segarra came to the realization that she was a Puerto Rican kid with a different tale to tell. It became clear, "I just started feeling more and more like, I don't belong here, I gotta get back to my people, you know?"
Reclaiming her heritage resulted in The Navigator, a disc that helped her reconsider all she had lost over 10 years on the road. It's the tale of a street kid, who reconnects with her ancestors and honours the memories that made her who she is today. Joining her on this journey are percussionists Juan-Carlos Chaurand, Gregory Rogove – Devandra Banhart's drummer, and guitarist Jordan Hyde. Together they meld musical styles forming a tasty Latin, blues-folk mofongo.
Recounting the journey of her alter ego, Navita Milagros Negron, Segarra tells a tale of a wandering woman dealing with the triple whammy of exile, segregation and gentrification. Musically the variety of styles and influences on display meld perfectly. The opening gospel harmonies of 'Entrance', features a gospel chorus singing to the heavens, "One for the Navigator, call my lord." Followed by, "If you listen real close to the engine's roar, you hear a choir of angels sing the heavenly score,"  setting the scene.
The folk blues of 'Life to Save' slides into the meditation of 'Nothing's Gonna Change That Girl'. Throughout the disc the Navigator appears, casting a jaundiced eye on the situation, "Oh where will all the people go, the Navigator wants to know, Oh where will all my people live, The Navigator won't forgive." A good question for these Trumpian times.
The track that stands out as the highlight is clearly 'Pa'lante'. In three parts over six minutes, Segarra sets out her mediation on life – where she's been and where she's going. It includes an excerpt from Pedro Pietri's Puerto Rican Obituary. The final section outlines the people in her life who must keep going and rings clear with the affirmation "Pa'lante" which translates to onwards. It's a moment that brings chills.
The album closes with 'Finale' a different take 'Entrance', more openly accepting of the Puerto Rican heritage of Hurray for the Riff Raff less bluesy, more Caribbean. The truth is simple "if one of us is not free, then none of us are free." Words to live by from a disc that simply must be heard.
Words: Bob Fish