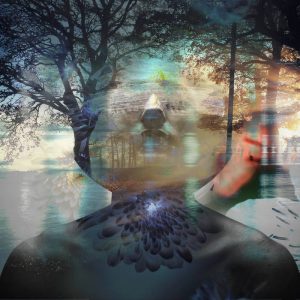 We here at For Folk's Sake are best known for covering, well, folk music. It's what's on the tin. Quite often, though, pretty much since our foundation, we have extended our reach beyond purely folk to embrace the many genres and sounds which fall under the general "roots" tag. Whether it's rock and roll courtesy of the Flaming Lips or the ambient ecstasies of Radiohead's A Moon Shaped Pool, we have been privy to cover music that falls fairly outside of the supposed folk rind that represents our core. Always, though, has it been roots music or, at the very least, something closely associated with it.
So, for us to embrace coverage of an album that comes across as entirely synthetic by comparison being that it is an electronic record, one might even go so far as to say it's sacrilege. Long have we gone on about the all-important "folk attitude" evoked in most music through roots instrumentation and/or sincere lyricism, but entering this world of electronic sound you really get neither of the bunch. You've got to be an artist with a special kind of moxy as an up-and-comer in the business to grab that sort of attention way off-hand, and in our eyes, the compelling case of zenxienz makes for one such master of their craft.
Electronic music is astoundingly more layered than many credit it for. Pushing past the jumble of noise and sound stereotypes that pervade the mainstream electronic market are innovators with entrepreneurial spirit. There are still those composers who don't buy into the same soundscape as others and instead make their own way in based on their own vision and experiences. Such is the case of zenxienz, a Hong Kong-born producer who pushes the envelope on his electronic experimentations by means of combining psychedelia, hip-hop, jazz and more into his drums-n-bass foundation.
Although, it hasn't all been sunshine and rainbows for the artist. For a number of years, he had tangled with depression to the point that he had pushed himself away from music-making and performance for a number of months before making his stand with Mind Sigh. The EP is a medley of sounds rooted in the artist's perseverance to be above their mental illness, and they mean for their latest work to stand as a testament of that. Mind Sigh is a reminder that even the most synthetic genres are capable of showcasing passion and complex emotion, and it does so splendidly.
Words by: Jonathan Frahm