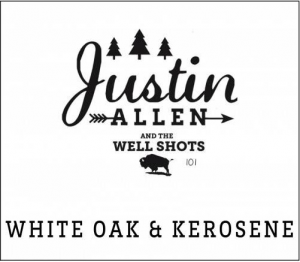 An ongoing trend in Americana is a revival of a particular edge straddling the line between country, blues, and rock and roll, reminiscent of artists along the lines of John Mellencamp or Chris Stapleton. Straight out of the capital city for these sorts of tunes, Nashville, Justin Allen and the Well Shots come roaring onto the scene straight out of the gate on "Hard Luck Man", the opening track from their latest record, White Oak & Kerosene. Allen is a hardened soul who doesn't back down in his music or in general life, embracing the same kind of straightforward, understated snark as the Southern-fried rock that he performs. No frills—just pure Americana.
On White Oak & Kerosene, Allen embraces the many sides of his everyman persona, of which one is consistently reminded that there is much more to the simple man type that might immediately meet the eye. He comes in abrasive and confident on "Hard Luck Man", yet sentimental and warm-hearted on "Come A Little Closer". Similarly, he lets loose a can-do, playful side on "Feeling Alright", something melancholy and nostalgic on the album's title track, and simultaneously jovial, yearning, and seductive on closing single "Angelina".
Throughout, his vocals aren't perfect. Instead, they maintain a particular southwestern grit to their step that culminates across different songs in different ways. He flips between soft-spoken and brokenhearted and rollicking, lackadaisical bard impressively on-the-dime on the aforementioned "Angelina", interprets "Come A Little Closer" with a sweetheart sentiment and then tackles "Hard Luck Man" like a bull. It's positively compelling, and when paired with the guitar, drums, bass and backing vocals of his Well Shots, every song present on the EP makes for something that feels easy to imagine on any respectable country radio's daily rotation.
For more information, visit the band's official website and Facebook page!
Photographer credit: Forest Wallingford
Words by: Jonathan Frahm