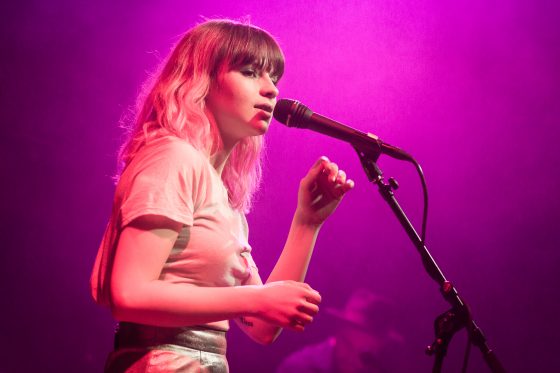 Gabrielle Aplin hasn't been out much of late. Penning new songs and reinvigorating her own independent record label – Never Fade Records – understandably puts a crimp in your gigging life. Thankfully the new initiative seems to be taking off well. In addition to putting out Aplin's most recent most recent EP, Miss You, Never Fade now has a host of young hopefuls on their books, including the critically acclaimed Saint Raymond, Hannah Grace, and the latest addition, Sonny. It is Sonny who opens for Aplin tonight, at the Jazz Cafe in London.
This venue is lovely, from the Art Deco light fixtures to the intimate and well-lit stage, and the periodic wafts of food smells that come from the first-floor balcony. Sonny is accompanied on the stage by a modest band who play, it turns out, good, old-fashioned rock'n'roll. Sonny, being new to the scene (and generally new to life… he's only 17) doesn't have much of a body of work, and his six songs are drawn mainly from his current EP, Princess. The title track of the EP is his second song after the introductory 'Jody', both songs about an ex. He has a good voice… the kind of bold voice that Tom Jones would turn his chair around for in The Voice. Not the kind of voice or the kind of style that is currently trendy among his generation. Which is refreshing.
Gabrielle Aplin comes to the stage preceded by her four-piece band. This is also refreshing since I'm used to hearing her play solo, just with a guitar. There's even a violinist in there. She kicks off with 'Light up the dark', the title track of album two, the album which took me a little while to get into. It was a departure from the folky roots of her debut trio of EPs, and album one, English Rain. Album two is decidedly 'pop-y'. Following up with 'Heavy heart', she then plays crowd favourite 'Panic cord'. The first overt crowd singalong commences. The song is beautifully arranged. The first part of the set finishes with 'Night bus', that old encore number.
Aplin banishes the band from the stage, and stands alone in the spotlight for some introspective songs, 'How do you feel today', 'Stay' (a brand new song that was written just a few weeks ago) and 'Coming home', a song about itchy feet. This last song was co-written with Lisa Hannigan, and shows her influence, very different to Aplin's usual style.
The band comes back to the stage for the climax of the set: five songs including the classics 'Please don't say you love me', 'Salvation' and current single, 'Miss you'. Crowd participation is very enthusiastic. After thanking the crowd for their warm welcome and encouragement following a year away from the big stage, she departs briefly before returning for a three-song encore. With the lighting tech pumping in the dry ice and the upstairs restaurant conveniently burning something to a cinder, the atmosphere is full of smoke. Aplin and band play 'Awhile', a song I hadn't heard live before (and frankly didn't enjoy much), and then the song which shot her to stardom, her version of Frankie Goes To Hollywood's 'The power of love'. The combination of piano and violin for this song works beautifully. Her closing song is the old faithful, 'Home', a song dedicated to her current mini-tour. She's been playing in three towns she's had close associations with over the last few nights: Brighton (her current home), Bath (close to her childhood home) and London (her in-between home). And tonight has been a great return to her figurative home, the stage, in front of her loyal and vivacious fans. Her voice sounded strained at times, but there's no masking the quality of her songs.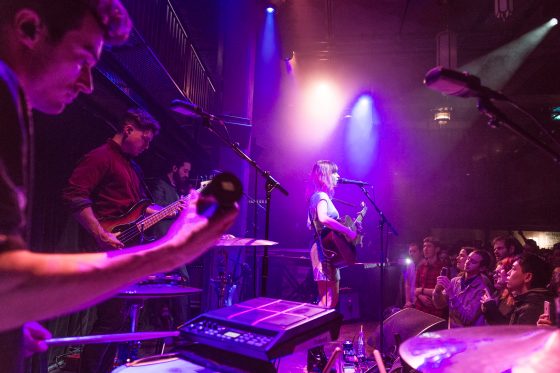 Words & photos: Paul Woods (@paulwoodsphoto)