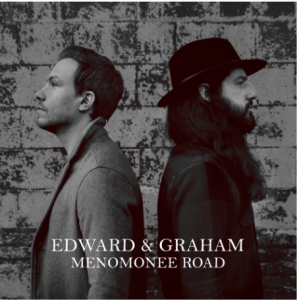 In the wonderful world of roots music, duos seem to have swiftly become all the rage. Whether we're talking the audience applause whenever Shakey Graves and Esmé Patterson join forces for something from off of And The War Came, or something more traditionally established alongside the lines of Penny and Sparrow or Shovels & Rope, consumers are eating up incredible duo acts left and right these days. With the aforementioned in mind, this seems to especially be true of the alternative folk and Americana sides of the scene, the latter of which would apply handily to the subject of this particular feature as much as "pure outlaw country" would as a label.
What's interesting here is how the boys behind this particular duo, Edward & Graham, hail from prior to joining forces on a music project together. Johnny Edward maintains homegrown musical roots out of Chicago, wherein he has operated for the past several years as a solo artist with such accolades as maintaining two original songs and an award-winning cover of Roy Orbison's "You Got It" on SiriusXM's radio rotation. Evan Graham Dunn, meanwhile, writes, sings, and plays guitar for a tech-metal ensemble and has toured all throughout Europe and North America as an establishment of the modern metal scene.
So, you get a Chicago-bred singer-songwriter and a world-touring metal artist and stick 'em into a blender. Out comes country? Apparently, and astoundingly, it's quite great country, at that. It's the breakneck, outlaw type of country birthed out of the roots of the American west, and there's not much more to say other than you should give "Menomonee Road" a listen below.
[soundcloud url="https://api.soundcloud.com/tracks/303195967″ params="color=ff5500&auto_play=false&hide_related=false&show_comments=true&show_user=true&show_reposts=false" width="100%" height="166″ iframe="true" /]
For more information on Edward & Graham, you can visit their website, Facebook, and Twitter pages.
Words by: Jonathan Frahm