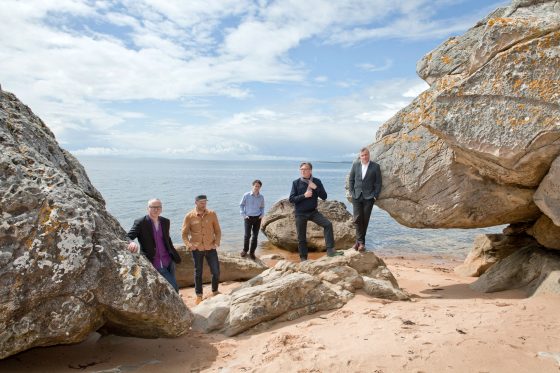 Twenty-five years ago Teenage Fanclub played this same Digbeth venue, days before the release of their breakthrough album Bandwagonesque. Granted, their fringes were longer and frames looser-limbed but close your eyes and not much has changed. Grunge, Britpop and lesser musical movements have come and gone but buoyant harmonies, chiming guitars and heartfelt, erudite lyrics still flow from Raymond McGinley, Norman Blake and Gerard Love.
Touring their tenth album Here (which reached no. 10 in the charts) the group are playing to a spirited Saturday-night crowd. Many, you guess, have followed them all the way, though there is at least one dad-and-son combo and a woman who turns to ask, after three songs, "are they Scottish?".
Blake, who now lives in Canada, jokes that they're recording 'Strictly' to watch on the tour bus afterwards but, until then, Teenage Fanclub are in robust form, the five-piece completed by Dave McGowan on keyboards/guitar and drummer Francis MacDonald.
From opener 'Start Again', their sound is raggedly bright and enveloping, pleasingly clean of studio polish. The acoustic six-string propped at the back of the stage is never troubled as MacGowan joins McGinley and Blake on electric guitar as often as not, including on the glorious 'I Don't Want Control Of You', which, if there was any justice, would've topped the singles charts for the whole summer of '97. Its parent album, Songs From Northern Britain, has weathered well and, with follow-up Grand Prix and their latest LP, makes up the bulk of the set.
The quality of the Belshill band's back catalogue is proved, as much, by what they leave out as what they include – there's nothing from Thirteen and biggest 'hit' 'Ain't That Enough' is, sadly, squeezed out.
Instead, there's a rousing 'I Need Direction', MacGowan's organ swirling throughout the packed venue; a pile-driving 'It's All In My Mind' and a fiercely punchy 'Verisimilitude', McGinley making every spiky word count. The band exchange and combine harmonies and guitar solos telepathically with an absence of hierarchy borne of camaraderie.
Tracks from Here, including 'Hold On', 'Thin Air' and 'The Darkest Part Of The Night' are as strong as anything they've written, which may explain the fresh lease of life Teenage Fanclub are experiencing. They're almost 20 songs in when they turn to Bandwagonesque big-hitters 'The Concept' and 'Star Sign', preceded by the equally glorious 'Sparky's Dream', before finishing with first single 'Everything Flows'. Still packing out venues by playing on their own terms, why change a winning formula?
Words: Pete Bate
Photo: Donald Milne