In Great Britain, Kate Rusby is nothing short of a national treasure, yet stateside she remains a largely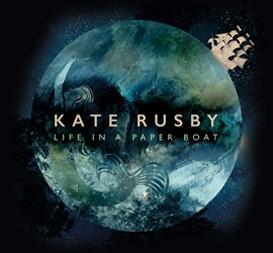 unheard commodity. 14 albums in, her 24-year career has set an unrivaled standard for quality. Life In A Paper Boat does nothing to change that. There are some departures from her standard instrumentation, however. Bassist Duncan Lyall spends a great deal of time playing synthesizer. Dan Tyminski from Allison Krauss's band provides backing vocals, while Ron Block adds his banjo to the mix.
A brilliant interpreter of traditional material, Life In A Paper Boat also finds Rusby writing six of the 12 tracks. Produced by husband and guitarist Damien O'Kane with Nick Cooke on diatonic accordion, Steven Byrnes, on bouzouki and tenor guitar, Steven Iveson, on electric guitar, and Josh Clark on percussion, much time was spent honing the sound. Rusby wanted more percussion on the disc, but insisted on having the percussion be generated elsewhere "… to really emphasise the union between old songs and modern musical technology." The surprise is how well this union works.
The musical choices on 'The Witch Of Westmorland' shed some light on what makes this disc so intriguing. Synthesizer plays a prominent role, yet never in a flashy or showy way. The critical element is always the song. So instead of a distraction it serves to move the song into a more modern context while retaining all the elements that make the song one in the folk tradition.
Album opener, 'Benjamin Bowmaneer' recounts the plight of a tailor who goes off to fight in the 100 Years War with a wooden horse and a bridle of scissor parts. The context for the song 'Life In A Paper Boat' is the ongoing migrant crisis. As Kate recounts, "I wrote Life In A Paper Boat after watching the many desperate souls prepared to risk the lives of themselves and their very young families to cross the sea in hope of a better, safer life." Unrequited Love is the theme of 'Hunter's Moon', a tale of the moon's unrequited love for the sun she will never meet.
Closing the album is 'Big Brave Bill', a bonus track offering up a Yorkshire Tea-drinking superhero from the wilds of Barnsley. Written for Kate's two young girls, the idea was to give them a sense of pride in their hometown. "The town's made up of tough ex- miners, and kind hearts who have suffered over years gone by, but they carry on and endure and grow. Perfect hero stuff."
Blending the old and the new – in both songs and instrumentation – Kate Rusby has once again shown that one can marry disparate elements in a way that serves the needs of the song, creating a folk tradition that continues to live and breathe.
Words: Bob Fish