Ballads of the Broken Few, Seth Lakeman's eight solo album, sees the folk troubadour align himself with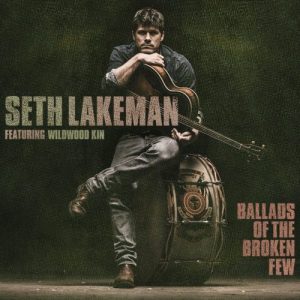 the Wildwood Kin, based in Devon, and whose voices add harmonies and warmth to the record. 'Silence Reigns' is a great example of how well Lakeman, and the Wildwood Kin, work together, their chorus refrain sounding softly sweet next to the slightly more gravelled tones of Lakeman.
Recorded with the heralded Ethan Johns overseeing the project as Producer, Ballads…  does sound a bit Ryan Adams-esque at times (See the lead single, 'Meet Me in the Twilight') but this is no bad thing. Johns brings a steady hand to proceedings, and his presence is hardly felt. I actually think that 'Meet Me in the Twilight' is one of the tracks of the year, it sounds simple, but I imagine it was well crafted in the studio.  The sound of the strings of the acoustic reverberate through the speakers, capturing the room they were recorded in. It is clear that the instrumentation, as ever with Lakeman, takes centre stage on Ballads…
'Silver Threads' is a particularly affecting track, concerning the story of the narrator noticing the pass of time, comparing his lover to an 'evergreen nesting in the sky'. With references to the 'heart that beats below', and 'the final drink of wine', the connotations are clear about the lover's fate, and this is encapsulated in Lakeman's guttural sorrow.
Calling the record Ballads… may be a misleading title. These are not a collection of ballads, but an assembled piece of work, which deserves wide recognition. Here's hoping the public notice what a talent in the Folk world these British Isles are lucky to call our own.