Kurt Vonnegut said, 'We are here on earth to fart around, and don't let anybody tell you different.' Now, on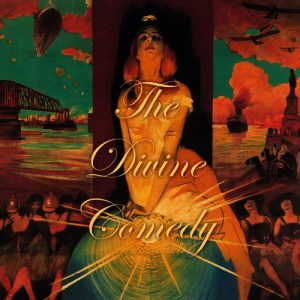 the face of it 'farting around' is not a complimentary way to describe the work of a musician, but bear with me because the pleasure to be found in the work of Neil Hannon is in a large part down to his embracing of this idea.
Hannon, through his Divine Comedy vehicle, continues to fine tune the art of writing silly pop songs. If you can shed your cynisim – surely an opportunity to be welcomed these days – you will listen to the Divine Comedy's new album, Foreverland, and lose yourself in its daft tales of historical characters, wide-eyed adventures and escapades, and, as a pleasing counterpoint, its wilfully pathetic anti-paean to being left home alone (new single, 'How Can You Leave Me On My Own').
None of this is challenging to the intellect of the listener but all of it is celebratory and joyful and soul-nourishing. Hannon has said that writing silly songs is more difficult than it looks, but you don't need to look hard to see and appreciate the craft of his work.
Highest in the silliness stakes is 'A Desperate Man', a song about dressing as a nun to escape from… well, we don't know what. It's a James Bond film condensed into a three-minute pop song and a feat only likely to be attempted and, certainly, achieved by Hannon.
Aside from all this playful invention, the album is a love letter to Hannon's girlfriend and to his life in rural Ireland. There's none of the topicality of his previous album, 2010's Bang Goes the Knighthood, and in some ways that's a shame, as when he chooses to Hannon is a potent satirist. But if he has decided to write about love and happiness instead of bankers and politicians, well, who can blame him.
A highlight amongst the album's songs of love is its title track. 'Foreverland' is as catchy as you would expect from the Divine Comedy: the shifts between major and minor echo the innocent hesitancy of the narrator and a male voice choir is stirringly employed, as if the ship's crew is willing him on in his quest. His quest is, we assume, to find love and happiness. 'Everybody thinks it's all lies' Hannon sings, of the cynics who don't believe in his dream.
Words: Dan Farmer