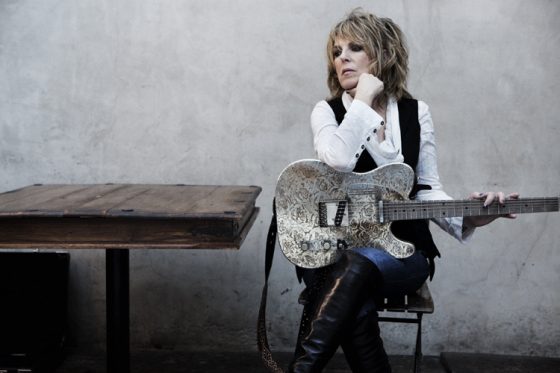 Hot on the heels of Lucinda's early 2016 tour for recent double album (yes, another) The Ghosts of Highway 20 comes this pared-down version of the songs, performed at the Apostel Paulus Kirche in Berlin with half the band missing, leaving just Lucinda with Stuart Mathis (of The Wallflowers and other acts) on lead guitar. The church is an odd, even fascinating setting, and it soon sees Lucinda spilling the beans about religion, family, love and loss, and just about everything. She clearly feels a connection with both the audience and the venue tonight in what proves to be a great concert, giving a new insight into the woman for this listener.
Stripped of drums and bass the songs survive well, and the passion in Lucinda's voice forms a stunning coupling with the cocoon that Mathis's guitar builds around it.
It all kicks off with Lucinda's cover of Randy Weeks's 'Can't Let Go'. From day one she made the song her own, and it's a great way to start tonight's more low-key church affair. Lucinda increasingly shares the stories behind the tracks as she becomes more comfortable in the setting. 'West Memphis' is introduced as it was back in January when she played in Berlin with her band. It's a song that is inspired by injustice and real life – the same life that weaves in and out of every Williams track. She is aware of the world and how it ticks, and everything she does as a musician somehow reflects that perfectly.
When she reaches 'Drunken Angel', inspired by Blaise Foley, it makes more sense than ever before with the complete background story – exceptionally eye-opening as all her stories are. These stories aren't told for the sake of it, they truly add an extra dimension to the songs, most of which Lucinda has been playing for some years now. Car Wheels on A Gravel Road, her 1998 masterpiece, figures as much in tonight's set as her two recent double albums, Down Where the Spirit Meets the Bone and The Ghosts of Highway 20. She talks of Foley and others who departed too soon, Cobain amongst them. The song is heartfelt, even by Lucinda's standards; her voice is searing, flying into the mic and soaring out of the speakers. Not a note comes out of her body that is not utterly essential.
Then Stuart puts his guitar down and leaves Lucinda to it for a few tracks. She plays the title track from The Ghosts of Highway 20, introducing it as a song that encapsulates how certain people and places stay with you in life. She says it is like Car Wheels… part 2, and it's hard to deny that they are linked. She explains the difference: in Car Wheels… she was the kid in the back seat looking out; now on Ghosts… she is driving and looking back. It's a beautiful intro that elevates our understanding and appreciation of the track. As in Berlin in January, the song is a treasure, and her voice and lone guitar fill the church majestically. Every word, every syllable drips with passion, with heartache for those lost, left behind.
Then she plays Down Where the Spirit… opener 'Compassion.' That song, converted from a poem by Lucinda's father, again draws attention to the importance of the key figures in her life. Her father –now departed – is more a part of her shows than ever, and she breathes life into his words, allowing them to live on, to live forever. It is a truly breath-taking moment that freezes the audience in its tracks. If this setting and the pared-back instrumentation was enough to lead to a silent audience, then this goes even further. It's a very special moment in a wondrous evening.
Lucinda is now into a rhythm of introducing the tracks with stories. That includes 'If There's a Heaven' and 'If My Love Could Kill' (both taken from Ghosts…, the latter about the disease that took her father) and 'Lake Charles', which is about another important figure from her past, now also departed. Mathis's guitar never takes away from Lucinda's guitar and voice, and often completes the spell that they cast. These songs surely do justice to the memory of the people who have made an impact on this most talented of artists.
At the end of the evening, I was fortunate enough to meet Lucinda and Stuart and have a short chat/interview. I mentioned that I saw her as the 'female Dylan', which drew a smile and a moment of immense pride. On tonight's evidence, with the voice, the songs and the plethora of experience and brilliant albums on which she can now draw, who could possibly deny that? Let's hope she has many years left of driving and looking back, because these are stories everybody needs to hear. A splendid evening in the presence of a true great!
Words: Dominic Stevenson