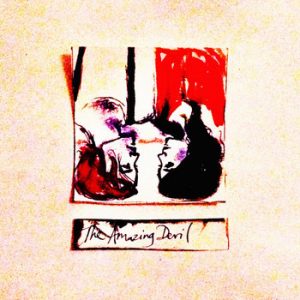 Love Run is the debut release from Soho-based The Amazing Devil. I had never heard of this band before their release announcement email arrived in the FFS mailbox, but one song was enough to get my attention and one play-through my interest, and a few listens later I was absolutely sold.
The band is led by Madeleine Hyland (performing as Scarlet Scarlet) and Joey Batey (The Blue Furious Boy). Madeleine has had a varied career; her credits include working with Dexys Midnight Runners, Cathal Smyth and even the Royal Shakespeare Company, plus 7 years playing the Jazz clubs of Soho. Her voice is particularly fine: crystal clear and capable of both carrying the higher-energy songs and slotting into the background. The band also features Héloïse Werner (The Hermes Experiment, The Coach House Company and many more) on cello and Robert Hallow on lead guitar.
One of the album's strengths is its mixture of styles, blending Madeleine's jazz background with Joey's Irish and Northern folk roots. Its signature sound is a gentle start, an interplay of vocals between Madeleine and Joey, and a rising energy level driven by thumping, almost martial toms. The lead single, 'King', is one such example, a fairytale set to a folk melody with crashing drums & guitars. 'Pray' and 'New York Torch Song' are similarly high-energy but slightly more rhythmic.
The closest to a pop song is 'Pruning Shears', an upbeat tale of cross-class romance. Here, extra interest comes from Joey and Madeleine singing different words in parallel for the majority of the verses and joining together for key phrases and the chorus.
Other songs are more melancholic and often introspective in tone. 'Shower Day' describes a troubled relationship and rises to a crescendo with a repeated "just say something" plea, and 'Two Minutes' culminates in a repeated call of "If I'm good will you come back?"
The album ends with 'Not Yet/Love Run', which clocks in at 8 minutes and switches styles several times. Starting with Joey's stripped down vocals, with occasional dark folk interjections from Madeleine, it rises to a bright sweeping chorus before Madeleine introduces the new riff, which repeats and grows until the the drums come in and are joined with a call/response from the band. This one song showcases the variety of the album.
There are a few little points I could criticise, and a couple of places I'd get my scissors out. But I don't want to dwell on the negative because as an overall experience I'm really impressed. Love Run is original, varied, engaging, exciting and very listenable. It's the best thing I've heard this year and a fantastic debut.
Love Run is available on Bandcamp
Words: Duncan Martin