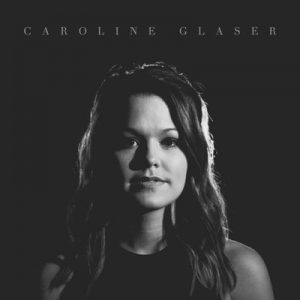 American folk singer-songwriter Caroline Glaser has released her first full-length album, the self-titled Caroline Glaser. A successful PledgeMusic campaign funded production of this album. It was her third successful fundraiser in a row, a tribute to the strength of her devoted fan base.
Caroline describes her current music as a mix of "Indie, indie folk and pop folk," which she delivers with a distinctively soft, mesmerizing voice. A voice so pure it is as if Texas-born singer Edie Brickell had raised Caroline deep in America's heartland. "I don't have the strongest voice so I go with tone," Caroline told her then hometown St. Louis Magazine after her appearance on season 4 of The Voice. But it has been a voice strong enough to launch a successful music career in Nashville, Tennessee. I would argue that with her new release, Caroline is sufficiently established that her "indie" modifier is passé.
I first heard Caroline live at the Saroyan Theatre in Fresno, California, when she opened for Straight No Chaser. She demurely introduced herself as someone who had appeared on The Voice, immediately leading some in the massive audience to Google her credentials. Two songs later, she proved to me how The Voice judges are not the final arbitrators of musical talent in the USA. At intermission, I took management's recommendation to heart and enthusiastically posted live video clips on social media. I found ample company among a like-minded, devoted fan base.
Following on the success of two EP's, the Caroline Glaser album offers a mix of the old and new. Among the nine tracks are six original songs, a stunning cover of The Outfield's 'Your Love', and a double reprise of her previously released 'Rosalee'.
One of Caroline's strengths is in her songwriting, which is richly displayed throughout this album. Take, for example, her pre-release song 'Drive' which explores the wasted time in a relationship where she pleads "Slow it down we're going too fast," only to face the realization "But we just drive."
'Your Love' epitomizes how Caroline can successfully deliver a distinctive slowed down folk style to a song which has become a rock classic. Not an easy feat, but one she elegantly pulls off. I like her latest studio version better than The Outfield's original!
'Rosalee', first released on her EP Caroline Glaser, Vol. 1, has long been a favorite of mine. I can't help but think the song would have made a perfect theme song for the aged couple in the movie 'Notebook.' The original 2013 release, co-written with Angaleena Presley of the Pistol Annies, shows a distinct country music influence. Comparing that to the new studio version shows off two aspects of Caroline's musical evolution. As a fellow mid-westerner, I'm attracted to her distinct lyric enunciations which are now more diffused with softer, serenading tones. Secondly, her successful fundraiser obviously allowed her to diversify the range of supporting musical instruments. If you prefer her classic, stripped down acoustic style, she also indulges you on the concluding track on the album, with a live version of 'Rosalee'.
Caroline's website is carolineglaserofficial.com. Caroline Glaser was released on June 24th on the Anacrusis label. It is available as digital download from iTunes, Amazon and Google Play. State-siders can catch her live at Eddie's Attic in Decatur, Georgia on July 29 and 30, 2016.
Words by: Gary Reese