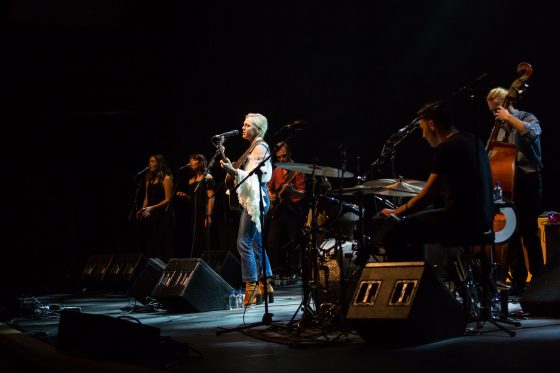 In some ways, it's hard to come up with superlatives to describe Laura Marling. She's clearly a virtuosa… adept at playing the guitar, with an agile and capable voice that she controls well. Her lyrics are intelligent and versatile, flicking between personal experience and shared folk wisdom. Her career has skyrocketed ever since she hit the music scene with her debut album eight years ago, at the age of 18. But there's something about her live shows that are a little formulaic, and I always leave feeling that I've missed out on a fundamental live music experience in some way. It's not enjoyment per se, because I do enjoy her shows — particularly the new arrangements of old songs — it's more than that… I feel like I've missed out on an indulgence. I find it hard to dig my toes into the sand of a Laura Marling performance: they're too precise, too regimented, there's no reckless abandon, there's no goddamn rock'n'roll. Song 1, song 2, insert banter here whilst backing musicians leave, solo song, solo song, solo song, more banter while musicians rejoin… song 11, song 12, song 13, last song. Done. House lights up. Everybody goes home.
Marika Hackman has the unenviable task of warming up the cavernous Royal Festival Hall. She does well, no signs of nerves. Her style is very much in keeping with Marling's: finger-picked guitar and a folky bent. Perhaps she's a bit more obviously on the darker side of things than her off-stage friend, though. Her songs are mostly laments, dirges… you can tell from the titles: 'Drown', 'Cannibal', 'Ophelia'. She doesn't really do happy. Her eight songs are a mixture of new and old pieces, and they deal with margins: life and death, waking and sleeping, day and night. Hackman debuts three new songs, 'Apple Tree', 'a.m.' and 'Cigarette', and closes with 'Cinnamon' from her first EP.
Laura Marling graces the stage with her band and the Topolski sisters as backing vocalists, and launches without a word into 'Rambling Man', that ever-present song from her second album. She smiles briefly after the first line as the crowd cheer and applaud in recognition. The song sounds great, rich and bold: the entire band add their voices. From an old song to a new one, 'How Can I' from latest album 'Short Movie'. And then Marling greets us briefly, thanking Guy Garvey ("the Big Friendly Giant of British music") for asking her to be a part of the Meltdown lineup this year. Next is 'Daisy', a song that was left on the cutting room floor for 'Short Movie'. It does stick out: it's an upbeat, almost pop-y song that would not have sounded out of place coming from Joni Mitchell's mouth.
After this opening three-song salvo, Marling is left alone on stage by her band for four further songs. One is a cover of the Bert Jansch (of Pentangle fame) song, 'Courting Blues', to which she uncharacteristically forgets the lyrics. She does have a lot of lyrics to remember, she remarks to us later in the show. Another, 'Feel Your Love', sees Marling bathed in a bright, bloody light which intensifies. This song has two versions… a Director's Cut featuring a distorted electric guitar and a low-fi, retro music video. The original album version is much closer to traditional Marling, and that's what we get this evening. One song seems to be a new number, about being afraid in love and being protective of her heart. She's spoken before about the discomfort of revealing her innermost self on stage, and her decision to hide her private persona from the spotlight… perhaps this is a step towards being vulnerable with her audience of receptive fans. Coming slightly closer than arm's length. But just slightly.
Welcoming the band back on stage, and this time with a string quartet in addition, Marling launches into an epic medley, lasting more than ten minutes. I've seen this before, and like then, I wonder to myself how her hands can deal with that amount of prolonged performance. Included in this rendition were album title track, 'I Was An Eagle', 'Breathe', 'You Know' and 'Once' from album number four. The latter song tiptoes along the borders of Country music. To cover the entrance of the band, and to stick to formula, Marling gives us an insight into her day: a morning spent wrestling with The Times jumbo crossword, avoiding the uncomfortable news content. But something caught her eye, a feature on Kundalini yoga, and she gives us a dire warning: "Kundalini yoga will fuck you up!", which she emphasises at the end of the set too. Presumably, this is a precipitation of her dabble with mystic spirituality whilst living in LA.
Back to the present, and 'Short Movie': 'Walk Alone' prefaces a cover, 'Waiting Around To Die', by obscure Blues/Country singer Townes van Zandt. The arrangement is funky, and the drum line is progressive. New song 'Wildfire' is gorgeous… almost Motown-esque, a reinvented 'Me & Mrs. Jones'. And then we're into the coda of the set, and back with the old steadfasts, 'Goodbye England', 'I Speak Because I Can' and of course 'Sophia', with its excellent Spanish-guitar-style opening. An upbeat end to a clinical set. It has been a recital, though, starring excellent technique and interesting arrangements, yes, but ultimately devoid of that exhilarating thrill of a great gig and that shared experience that we all, perhaps Laura most of all, wish we could have indulged in.
Words: Paul Woods
Pictures: Vic Frankowski