It's a rare musician these days that travels from Boston to the Delta and finds himself entranced by the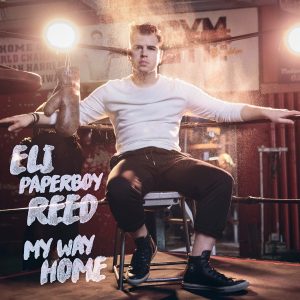 jukebox joints of Clarksdale, Mississippi. Even rarer to then travel up to Chicago and become music minister at the south side church of Mitty Collier while attending the University of Chicago. Rarer still to find one instructing students in Harlem's Mama's Foundation Gospel for Teens program. Suffice it to say Eli "Paperboy" Reed is not your average musician.
Reed's fifth album, My Way Home fulfills the promise shown on Roll With You back in 2008. While the major labels tried to bend and shape him, Yep Roc has given "The Paperboy" the freedom to record what he wants and how he wants. Over the course of four days recording with Loren Humphrey in Brooklyn, Reed delivers a record charged with electricity. Using just guitar, organ, bass and drums, the music crackles and sparks fly. The music is timeless and the performances fire on all cylinders. Starting with a screech of organ, Hold Out immediately kicks the LP into high gear. Reed testifies and his guitar solo bristles. From a whisper to a scream and all the way to a falsetto, Your Sins Will Find You Out makes it clear you can't run away from your actions.
Eli delivers his gospel with the sparest of backing, making every note count. Again and again the emphasis is on the testimony whether sung or played, sweat and blood comes through every note. His voice is a wonder to behold, wrenching emotion out of every note, delivering the gospel of Tomorrow's Not Promised with the authority of a man who knows about sin and salvation, "You better pay attention to everything you do and say, because tomorrow's not promised, don't you put off today." Sounding like a latter day Robbie Robertson on the opening to I'd Rather Be Alone, Reed delivers a simple message about finding the righteous.
The music and messages on My Way Home are timeless. What sets this record apart is the passion the "Paperboy" uses to deliver his truth. Here endth the lesson. Can I get an Amen?
Words: Bob Fish