Cat's Eyes second long player commences like a fairy-tale. It feels modern and old as Faris Badwan and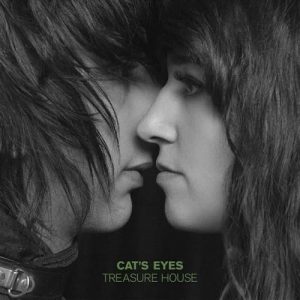 Rachel Zaffira (a real life couple) share vocal duties over songs that hark back to classic sixties pop among other styles. Treasure House feels like their respectful homage to the type of music that they love and has informed their musical lives. It sounds like neither of their main musical jobs, and therein is probably how this project has survived beyond its first record. It feels like a musical playground in which to enjoy oneself.
The record flits between Badwan's indie pop and rock leanings and Zaffira's more sixties pop sounds. It works as it mixes in together, almost forgetting what the briefing was, and as the two playfully complement each other. It's never boring, the tracks are short and it offers a lot over the course of 11 songs. If you like The Horrors you could still like this duo, as Badwan leans into the light with dark magic and character. It's not as heavy, but it's still a fascinating listen. Zaffira's moments are lighter, more tender, a totally different angle. 'Everything Moves Towards the Sun,' is a glorious slice of balladry. It is one of the key moments of the record, coming straight after Badwan's best vocal and track so far. It starts to feel like an intoxicating blend.
The slow beauty of 'The Missing Hour' with its elegant strings and its blossoming nature is the next moment to behold. Badwan's vocal is sweet and measured. Zaffira's backing vocals lend a delicious grace, and the percussion again takes us to the sixties before it ends rather too soon. You get to hear both at their fragile best, you get lovely melodies and in a good range of tempos. Final track 'Teardrops' is a microcosm of just what this band can do, and is frankly one of its very best songs. A stunning finale.
It's a lovely second record and more than just a side project. Cat's Eyes is probably exactly what its two creators want it to be – a brilliant little band in its own right.