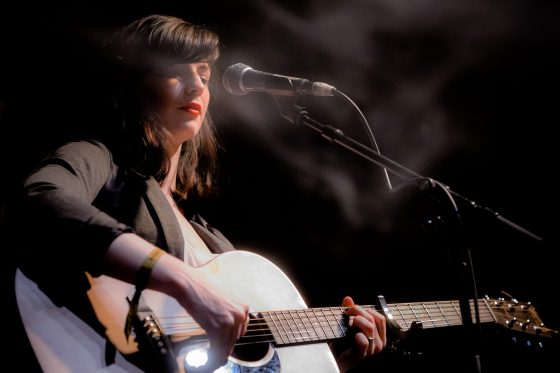 If you haven't been to the Harrison in London Kings Cross before, it's one of the warmest, most intimate venues in London, as well as being one of the more versatile. The perfect setting for unplugged nights, whether musical, spoken word, or comedy, and softer electric gigs, it was also the scene of one of the most raucous nights of Spanish flamenco music I've ever been to.
On this occasion, however, we were being treated to a showcase of London's fresh acoustic folk talent, curated by Laurel Canyon Music, featuring four varied acts. Opening the night was Minnie Birch, softly spoken and modest with her pure brand of trad folk inspired songwriting. She started with an a capella song, before slinking into her next two gorgeous solo tracks, her silky voice drifting over gently plucked guitar with an air of melancholy. Inviting guest singer Lauren Deakin Davies up on stage to provide harmonies and delicate guitar accompaniment, her set was particularly poignant, my favourite song of which was 'Floundering'.
Next was singer-songwriter No King No Crown (aka Réne) from Dresden, Germany. With his BRXTN baseball cap and Adidas trainers, he looked more like an electronica multi-instrumentalist à la Jack Garratt than an acoustic guitarist, and I feel his impassioned songs would lend themselves well to full band backing. Joined for a few songs by a guest electric violinist, he insisted that they had never played together before, and, as is usually the case when people say that, I would have been inclined not to believe him but for his patent sincerity. His voice and melodies reminded me a little of Sam Neil (Biffy Clyro) and Roddy Woomble (Idlewild); while I realise that makes it sound like I confuse German accents for Scottish accents, I like to think it reveals varied rock influences behind his unassuming sound.
After a short break, we were treated to the magical sound and glamorous style of Roxanne de Bastion (pictured above). Boasting some truly beautiful songs, the highlight of which was 'Wasteland', an affecting piece about her homeland Berlin during the fall of the wall, her set fluctuated between the vibrant and the fragile, and her finale, an entertaining song with crowd participation about red and white blood cells, rang of a cross between a young Frank Turner and your kooky GCSE science teacher. I can also highly recommend her stunning single, 'Rerun'.
Closing the night with his irresistible dynamic range and commanding stage presence was Antonio Lulic. Half Chilean, half Sunderland – the most wonderful of Venn Diagrams – and former support for Ed Sheeran on his South American tour, he captivated the room from start to finish. Unabashed in his song subjects, ticking all the boxes of 'singer-songwriter bingo' – fame, heartbreak, politics (a fervent song about the killing of Jean Charles de Menezes) – he self-deprecated between songs, all the while in complete confidence in his music. Also finishing with audience participation, his last track 'Boozehound' raucously segued into a medley of popular tunes (Kings of Leon, Paul Simon, Bryan Adams), rounding off the night on a high!
[soundcloud url="https://api.soundcloud.com/tracks/81393086″ params="color=ff5500&auto_play=false&hide_related=false&show_comments=false&show_user=true&show_reposts=false&show_artwork=false&sharing=false&buying=false" width="100%" height="80″ iframe="true" /]
[soundcloud url="https://api.soundcloud.com/tracks/257569147″ params="color=ff5500&auto_play=false&hide_related=false&show_comments=false&show_user=true&show_reposts=false&show_artwork=false&sharing=false&buying=false" width="100%" height="80″ iframe="true" /]
[soundcloud url="https://api.soundcloud.com/tracks/190948777″ params="color=ff5500&auto_play=false&hide_related=false&show_comments=false&show_user=true&show_reposts=false&show_artwork=false&sharing=false&buying=false" width="100%" height="80″ iframe="true" /]
[soundcloud url="https://api.soundcloud.com/tracks/171190152″ params="color=ff5500&auto_play=false&hide_related=false&show_comments=false&show_user=true&show_reposts=false&show_artwork=false&sharing=false&buying=false" width="100%" height="80″ iframe="true" /]
Words: Ned Mortimer