I have been listening to Jim James' take on the Grateful Dead's "Candyman" for the last three weeks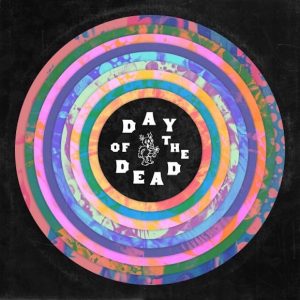 straight. I can't get over his version of this song. To be honest, I can't get over this album. It's important to note, that even if you aren't a so-called Deadhead, don't worry – you'll still love all 59 tracks of this magnus opus. "Curated" is the most accurate word for what The National's twins Aaron and Bryce Dessner did with Day of the Dead. Tackling the ubiquitous chrestomathy of the Grateful Dead cannot have been an easy task, but having a massive Alt Mega Star Phonebook on your side must have made things run a bit more smoothly!
You might be thinking (as I was, mistakenly, before I listened to this album) that the most exciting thing here is that every single one of your favorite alternative, alt-folk, and indie bands are covering the Grateful Dead, each bringing their distinctive sound and voice to the famous (and infamous) analects. But, it's impossible not to notice the presentation. Each artist freely tailors songs to their recognized style, while the album miraculously maintains a cohesive flow that would make Jerry Garcia proud. Allowing these different approaches on the normally sacrosanct, cult-oriented, jam-covers-only Grateful Dead tunes, it draws attention to the ability by the Dead to craft a song – write a tune, pair excellent lyrics, and build an album. This album acknowledges the mythology without becoming a part of it.
There are certainly some artists who chose the more traditional Dead path on their given track (like Bonny "Prince" Billy's "Rubin and Cherise") and while those tracks are revelatory in their own right, the real shining stars are those unexpected ones. Standouts include Sharon Van Etten's haunting and heartbreaking collaboration with Perfume Genius on the eerie "Lay Me Down," Courtney Barnett's blissed-out yet punky take on "New Speedway Boogie," or even Mumford & Sons "Friend of the Devil" which sounds like Franken-mashup with early work from the curators themselves, The National. It's like nothing I've heard from Mumford & Sons before. The Lone Bellow's "Me & My Uncle" sounds like an adapted Appalachian bluegrass tune, with a tinge of dustbowl era barn dance. Even the actual album itself is physically beautiful. The packaging, the vinyl, and the liner notes are impeccable, emotional, colorful, and nothing you'd expect.
-Haley Velletri
Sandwiched between Thunder and Sunshine, Day of the Dead's middle portion offers plenty of filling, with some filler along the way. The quality control is reassuringly high but a few of the lengthier tracks on this 103-minute selection test the 'skip button' reflexes.
There's a wedge of songs that colour inside the lines, some of which work better than others. Of these, opener 'If I Had The World To Give' by Bonnie 'Prince' Billy is perhaps the best – it's simple piano line setting off Will Oldham's fragile vocals perfectly. Lightning's shortest track, it sets the standard and paves the way for another Bonnie cover, 'Bird Song', which matches the deftness of the Dead original if not the running time.
Phosphorescent's 'Standing On The Moon' is earnestly poignant and The National's 'Morning Dew 'broods in a way that only The National can. However, 'Playing In The Band' by TV On The Radio's Tunde Adebimpe, Lee Ranaldo & Friends, loses its way about three minutes in, meandering on for another seven.
Of the other straight-ish versions, Lucinda Williams imbues a defiant world-weariness which is utterly believable on 'Going Down The Road Feelin' Bad' while The Walkmen raise a smile with their perky 'Ripple'.
Things get interesting, and at times bizarre, on several tracks which veer off at tangents: if Charles Bradley and Menahan Street Band's dirty funk-soul makeover of 'Cumberland Blues' rips the hinges off, Marijuana Deathsquads' 'Truckin'' burns the porch down in a riot of bleeps, shrieks and beats.
Elsewhere, Cass McCombs, Joe Russo & Friends reinvent 'Dark Star' by slowing its haunting keyboard melody, 'Stella Blue' is given the trip-pop treatment by Local Natives and Orchestra Baobab turn 'Franklin's Tower' into an Afro-Cuban shuffle-treat.
The 19 songs are brought to a close with the harmony-laden 'Brokedown Place' by Arcade Fire's Richard Reed Parry, Caroline Shaw and The Band's Garth Hudson. A tender finale to a mostly fine selection, Lightning hits home runs more often that it strikes out.
– Pete Bate
Which brings us onto the final stretch of the marathon. The third set of songs, entitled Sunshine, see the project out to a cracking conclusion, and contain some of the best material found in the box set. Real Estate's (relatively) straight cover of 'Here Comes Sunshine' is a piece of summery, jangly rock, the plinky-plonky of the keyboard giving the song a lovely musical tilt to it. Unknown Mortal Orchestra turn 'Shakedown Street' into a late night shapeshifter, and verges on going full on slap bass. One could easily imagine the pioneers of the slap-bass, those Red Hot Chili Peppers, doing a similar job to UMO.
Bill Callahan's golden touch ignites 'Easy Wind', continuing the Dub theme last explored on his own remixed version of Have Fun With God. 'Space' is turned into a percussion instrumental by Man Forever, So Percussion and Oneida, and a slightly irritating one at that. Perhaps the stand-out from this set of tracks is by Sam Amidon, who does a campfire rendition of 'And we bid you Goodnight', providing a sense of closure to this ambitious project. It is, however, a National track that ends the set, accompanied by Bob Weir on the driving 'I know you Rider'. Benefiting from a live setting, sung by Weir on lead vocals, the track is largely an 8-minute wig-out, but then, the Grateful Dead were the purveyors of the wig-out. As a summary of the previous almost 6 hours of covers, it is a fine way to end, and Dead fans should enjoy the sound of Weir having fun.
An album like this comes once in generation…unless of course it's Red Hot sponsored, in which case, it's the 20th time in the last 25 years. Red Hot's mega compilations have proven over the last two decades that lightening can strike in the same spot time and time again, especially if for a good cause.