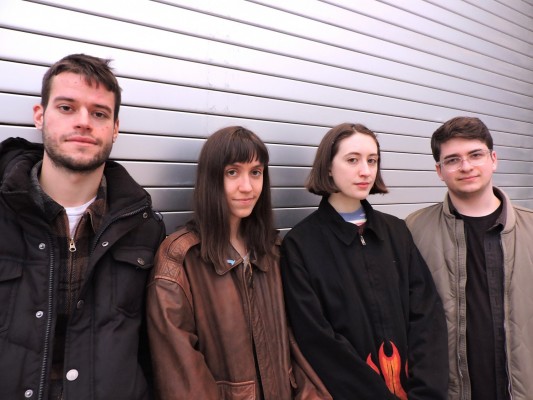 Frankie Cosmos deserve so more than a Monday evening London audience. Which is not to say that the crowd isn't fully on board with Greta Kline's awesome indie-pop. We are. We sway and we nod. We grin and clap and whoop between each and every song — which, given that the songs all clock in around the two-minute mark, is actually probably twice as much whooping as the average gig. It's just that, aside from one dedicated member of the front row, no one dances. And Frankie Cosmos' songs deserve to be danced to. Ideally by messy, drunken teens and carefree Friday-night grownups remembering what it was like to be messy, drunken teens.
To be fair Frankie Cosmos don't exactly dance themselves, but Kline bounces around joyfully and does the odd dramatic lunge. She even pogos briefly and orchestrates a stage invasion from headline band Porches, who perform a thirty-second choreographed routine before wandering off in single file to wait their turn in the dressing room. But now that I've got my one and only complaint out of the way, lets get to the good stuff. First and foremost there is 22-year old Kline herself — the band's leader, songwriter, singer and guitarist, who manages to be thoroughly endearing despite keeping her eyes scrunched shut for 80 percent of the show. Kline's voice is a lo-fi dream. It is pretty and strange in equal measures and it moves around exploringly without ever getting tediously showy. The lyrics are both poetic and casual — a stream of poignant, funny observations about herself and her world. Sometimes witty and cynical (Everybody says my decisions are ok / But here's a better idea / Then a comment about my body) and other times just plain sweet (Feeling very touched / Cos my friends are in love) often within the same song. You can't always hear what Kline is singing over her strumming guitar and energetic arrangements, and even when you do catch a snippet, the meaning is often elusive but you always get a sense that she knows what she's talking about, like someone speaking confidently in another language — which is a pretty neat trick. Plus Kline always throws in a satisfyingly simply line at just the right moment to keep you hooked. The opening lines of 'Fool' are a perfect example; "You're name is a triangle / You're heart is a square" she croons mysteriously, but then "I love to see you / Way over there." Kline's meandering melodies somehow make her well-thumbed phrases interesting again and help her enigmatic ones make a bit more sense.
Most of the songs played tonight at Oslo come from new album The Next Thing, which was released on Bayonet Records in April. The 15-track, 28 minute album is Kline's second studio record, following 2014's Zentropy, last year's Fit Me In EP and hundreds of anti-folk inspired gems uploaded to her Bandcamp page since 2010. The band made light work of Kline's endlessly shifting tempos and provided perfect twee-pop harmonies and simple indie-rock instrumentation. On record, the tempo changes can get a little exhausting but live they worked perfectly, creating one long flowing conversation that follows the unique logic of Kline's songwriting.
[bandcamp width=100% height=120 album=2152703168 size=large bgcol=ffffff linkcol=0687f5 tracklist=false artwork=small]
Words: Katy Young