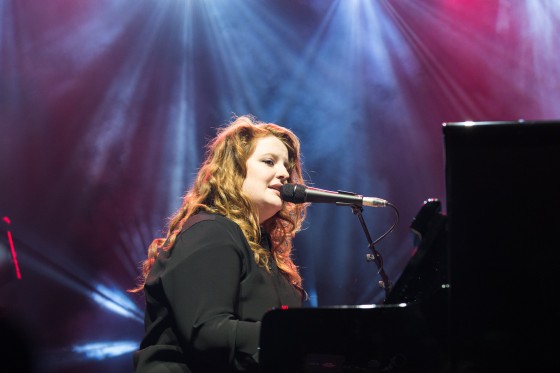 I think you could be forgiven if you haven't heard of Frances. She first hit my radar when she made the longlist of the BBC's "Sound of 2016" in December, and despite ultimately not featuring in the top five, has possibly found more recognition than many of the other listed artists. She's a piano-based balladeer, which is refreshing in this era of guitar-playing soloists. She also has a warm, clear voice and a talent for hitting you right in the feels.
KOKO is slow to fill up tonight, and despite coming onto the stage a good 20 minutes after initially advertised, opening act Jessarae has only a handful of people to play to. However, he puts his all into a five-song performance, and his fans in the audience are appreciative. A tall, wiry young man who plays a blend of blues rock and Southern soul, his voice has a gritty edge that Stephen Tyler would be proud of. His set includes a cover of 'Roses' by The Chainsmokers (which he does well to make his own), and a great and very catchy new track 'No Warning', available on his Soundcloud.
The second support slot is filled by Mahalia, a Leicester girl who has been seeing a great deal of exposure in London recently after signing to Atlantic Records, and reaching the age of maturity. Her songs are honest, and open… she sings about her own real-life experiences, and as such she takes us back to the world of adolescence, with songs about bullying, trying to get a fake ID, dreaming big, falling in love, that first broken heart. She plays the guitar and keys, but mixes in spoken word with lyrics, and has an urban edge that comes from growing up in the city and listening to Kendrick. It sounds like the interest in her is well founded, and very soon she'll be slipping into the upper ranks of British R&B artists.
The focal point of Frances' performance is an upright piano, alone in the stage lights. At some point during her set she is joined by a string quartet and a guitarist, but they're very much in the shadows. Frances is all about Frances, her voice and her piano-playing ability. Prior to the show I was a bit worried that she would be one of those performers who hides behind their instrument, singing with closed eyes to shut out the audience and connect with the inspiration for her art. That's great for the recording studio, but for a live show, people pay for a connection to the performer. They pay for a unique experience. They don't want what they can get on a CD. Thankfully Frances was not too much like that. Focused while singing and playing, but engaging and smiley between songs, giving us an insight into the music and the personality that spawned it.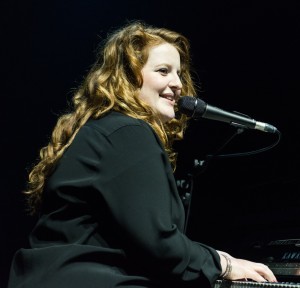 For a fairly new artist, she already has a sizeable amount of material to draw from: two EPs and a few singles have been released, and a debut album is slated for October. Her set list tonight is a mix of songs from the EPs, a cover song, and some miscellaneous material which may find a place on the new album. Frances opens unaccompanied, playing the piano, beginning with 'When It Comes To Us' and 'Borrowed Time'. The first track featured mysterious London-based trio Ritual when it was released, and is a chilled, dance number. Its live performance is more intense and mesmerising. 'Borrowed Time' receives the same treatment… again released as a dance track, it becomes richer under Frances' hands.
A firm Belieber, Frances covered Justin's 'What Do You Mean' for BBC Radio 1's Live Lounge earlier this year. She makes this track three of her set tonight, and also lets slip that she and her band were a fill-in for the Live Lounge slot, after a more volatile and more famous band failed to show up. The next two songs, 'Cloud 9' and 'Drifting' are relatively new and unheard. She welcomes a string quartet and a guitarist to the stage for these, and the next song, 'Say It Again'. This latter song was co-written with the very talented Greg Kurstin of Adele fame, and the two singers clearly have their similarities. Powerful voices that break into a beautiful tenderness. Frances' voice has a lovely soft raspy edge to it tonight, which may be the result of coming to the end of a tour.
Frances closes out her set with 'Grow'… the title track from her first EP and a fan favourite which gets the crowd singing along and clapping heartily. And then finally 'Sublime', another new track which I suspect we'll be hearing more of. She is at pains to point out that she doesn't usually do encores, thinking them unnecessary, but then she wants us to know that she is making an exception for London… and comes back onto the stage after exactly 30 seconds off (she probably was counting in her head…!).
She kicks off another three songs singing acapella, leading into her new single 'Don't Worry About Me', a delicate ballad with a heart-wrenching video. Compounding the sadness, encore song two is 'The Last Word', about ending a relationship. She encourages the audience to indulge the moment. To help them recover, she finishes the evening with 'Let It Go', title track of her most recent EP: "let it out, let it out, everything and even nothing." The crowd adds their voices. It has been an accomplished show from the young musician, not showing any nerves or becoming flustered. Her music undeniably has a wide-ranging appeal, and she's already working with some big names in the music industry, so I think we can expect to hear a lot more from Frances soon.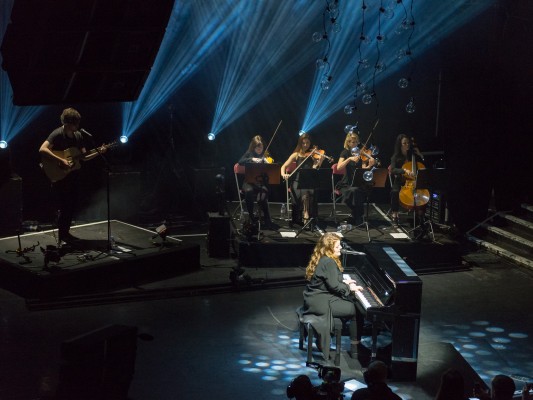 Words & pictures: Paul Woods