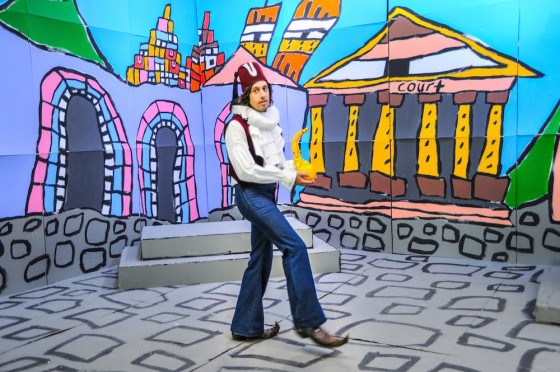 "Women prefer a menagerie of clowns," sings Adam Green, at Bristol's Thekla, a floating boat of a venue in Bristol's East Mud Dock. Judging by the reaction of the women and, indeed, men in the crowd, he's spot on. Green and his excellent backing band (Coming Soon – who also provide support) could be the clowns in question: silly hats, big smiles and in Green's case plenty of stumbling and hilarity.
They spend an hour and more recreating, often enhancing, the joy that is Green's back catalogue. Creases are ironed out of early home-stitched songs, such as 'Who's got the crack?' The band adds pace and vim to rabble-rousers like 'Dance with me', which closes the set.
It's hard not to imitate Green's obvious delight in playing these songs. He can hardly help himself: diving into a welcoming crowd, delivering high-fives and hugs. He even takes requests, seeming surprised it's not part of the typical singer-songwriter's book of moves.
And as well as the goofing around, the poetry in Green's lyrics further demonstrates his lack of ego and his absence of giving a monkey's. Often laugh-out-loud, sometimes throwaway, occasionally wilfully offensive (see 'No legs'), but always obscure, surprising and utterly uninhibited.
"Did you know the poet Thomas Chatterton is from here?" he asks the Bristol crowd. "I went to visit his grave, in a church over the other side of the river… but it turns out he's buried in London or somewhere." You can imagine much of Green's life is lived in this way, flights of whimsy leading him who knows where. If his travels lead him to Bristol again there will be plenty of willing punters ready to come and rejoin the circus. Long may this clown keep clowning.
Words: Dan Farmer