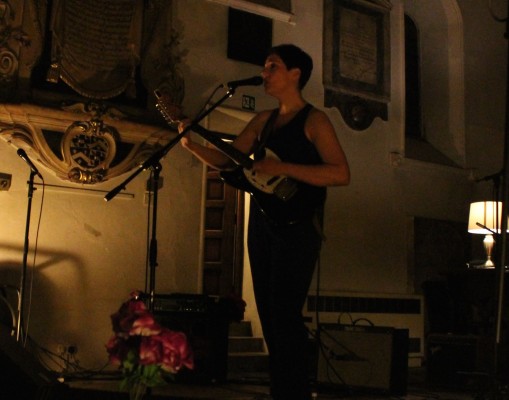 St. Pancras Old Church, intimate and grand at the same time, is the perfect setting for Laetitia Sadier and her stripped-down, warm but otherworldly performance. Stereolab's singer and chief lyricist has been going it alone with several solo albums in the last few years, continuing her former band's unmistakable laid-back but impassioned avant-pop.
Support act Pollyanna Valentine, a Pixies-esque London-California band, set the scene with dreamy country and alt-rock held together by some top-notch base. They were followed by IKO Chérie, a three piece vibing 60s girl groups and twee pop (think Those Dancing Days and The Concretes). Providing vocals on one of their songs, Sadier unleashed her extraordinary presence early, strolling on in a royal blue bodysuit and dominating with her momentous voice.
For her own set, Sadier belted out tunes taken mostly from her 2014 album, Something Shines, alone on the stage with just her guitar, minus the analogue synths that have accompanied her for most of her career. Sadier's powerful voice and purposeful lyrics are enough, though, to carry things along. Her solo work follows Stereolab's tradition of left-wing political commentary and this gig contained plenty of provocative themes delivered in a stop-start experimental style. 'The Milk of Human Tenderness' was, as Sadier let us know, inspired by Barbara Loden's legendary feminist film, Wanda, about a struggling, working-class woman in the US. 'Oscuridad' is socialist in tone with the repeated, droning line "Do the rich need the poor to be rich?", an obvious but still bold critique of contemporary world affairs.
Alluring French lyrics, standing out particularly in the relatively light-hearted warbling of 'Echo Port', gave the performance an extra air of charisma, which Sadier generally has in abundance. There was also a nod to her past musical life with 'International Colouring Song' from Stereolab's 1994 album Mars Audiac Quintet. Sadier's closing number, a version of 'Summertime', left us in an upbeat and inspired mood, ready to carry out her proposed revolution whilst still feeling washed over by her tender fuzziness.
Words: Helen Wright
Pictures: Theresa Heath