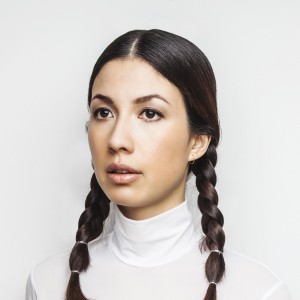 "Love, love, love…love is the answer." So sings Emmy the Great on the fourth track of this, her third album. It's a familiar statement. Reassuring. Sweetly delivered. Beautifully rendered. Oh…there's more…"But I'm a comfortable liar," she adds. A sting in the tail. A reality shot, entirely characteristic of the record.
Throughout Emmy shows a neat line in ice cold zingers. On 'Dance W Me' she tells a partner, who appears to have a short life expectancy in the role, "We'll be alone by tomorrow, and you should get what you want tonight." Get lucky, then get dumped. Hopeless romantics need not apply. In fact, the closest we find to uncomplicated amore comes with a gorgeous reminiscence of a teenage crush on 'River Phoenix', an object of affection even more distant than that in the deliciously ambiguous 'Swimming Pool'.
It's interesting that she chose use the name Second Love, linking it intrinsically to her fine debut First Love, because it's certainly not a sequel or a retread. Back in 2009 hers was an act built around folky acoustic guitar, and episodic tales with densely, often brilliantly, observed lyrics. Second Love is not a natural heir musically, with the mood set more by the production values than the instrumental work.
It's easily her most electronic material yet, with the buzz of static, clipped samples and synth washes all prominent alongside the more familiar picked guitar lines.
Lyrically we're in new territory too. Her early writing was whip-smart and literate but also busy, conflicted and vulnerable.
Here she shows the confidence of restraint. There are more poetic aphorisms than diary fragments this time, though it's still hard not to smile at flourishes like "We thought weight loss was survival/ we thought that Vogue was French for Bible".
Like so many second loves this is different to its predecessor – more wary perhaps, battle-hardened even, but richer too, maybe, and no less compelling in the moment.
Words: Rory Dollard