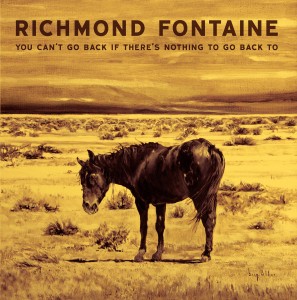 Richmond Fontaine are back. After forming the Delines and releasing Colfax in 2014, Willy Vlautin returns with Richmond Fontaine's tried and trusted recipe. It's a winning formula, and even if this new record contains few surprises, that's not going to be a problem for long-time fans who can revel in the glory of another great set. This stuff never gets old as they keep on knocking out splendid alt-country-folk music that can only be considered sublime. Each album feels as much like a film as a musical record.
Vlautin's storytelling is perfectly coupled with a band more than capable of shaping a whole world for his voice to live in. The songs always seem related, chapters of a book, flowing into one another. The band always feels like a purveyor of night-time music, as it somehow resonates with that feeling of the sun having disappeared and the slow tempo of the evening and night. It echoes with the city lights, or the solitude and loneliness that night time can throw up. The late night majesty of Willy and co. is as clear as ever it was. Even though they haven't released a record since 2011, it doesn't feel like they've ever been away, such is the effortlessness of this band.
Richmond Fontaine make the music they want to, the music they feel comfortable creating, and music that definitely leaves you wanting to return to it. It may not be ground-breaking, but after so many years there is something truly brilliant about a band that you can rely on, always being there, and telling you stories. This is another really strong addition to the band's oeuvre. You couldn't ask for much more.