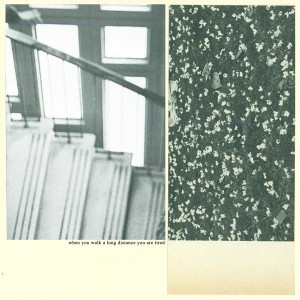 Birthed in Athens, Georgia, in the shadow of alternative heroes Neutral Milk Hotel and alt-country dons the Drive-By Truckers, Mothers was originally conceived as front woman's Kristine Leschper's solo project whilst studying printmaking back in 2013. After a bout of well received solo shows Leschper realised that bringing together a band would be the only way to truly complete the vision she was forming in her mind. Thus, Mothers was conceived, and now comes the debut album. With a wordy title and an average track time of around five and a half minutes, it was never going to be an easy breezy listen.
As the album opens with the mandolin-led 'Too Small For Eyes', I found myself pulled in, her incredibly delicate yet powerful and high voice, hops around over the challenging and swirling melody as if it's nothing. "I think I'm at my best, when nothing's needing me" – beautiful. Perhaps naively, I thought this might set a tone for the album. But if anything this track is a stand-alone lighter – though certainly still melancholic – acoustic track amongst what generally becomes a dark broody, minimalist electric guitar-driven album.
'It Hurts Until It Doesn't' is admittedly a slight exception to this too, with it's driven pulse, and middle 8/outro that takes a nice left turn from the rest of the song. "I was crushed by the weight of my own ego, but never honest enough to say it". Word Kristine, word.
At points, with it's twangy guitars, and spacey drums, Mothers come up sounding a bit like Canadian slacker-rockstar Mac DeMarco, particularly on standout 'Copper Mines'. Unfortunately, after this track, everything sort of starts to blur, and this is my problem.
The vocals are stunning, the strings that so often chime in are divine, but there's just something a little indirect about these songs, after a while, it just feels like you're listening to these long wavering melodies floating around over something nice. You know when a band starts a song and because so many of them sound the same you're not even sure which one it is? It's a bit like that. The melodies are just too indistinct. I'm not asking for hooks left right and centre, I understand that they're probably not trying to dominate the radio airwaves, and obviously that's fine. But it just gets a little tired after a while.
Sometimes you write something negative and it doesn't bother you because the music sucks, but in this case, I feel bad about the above paragraph, because the fact is that there is unquestionably strong talent here, really strong talent, it just doesn't feel honed enough. Listen to this album, if for nothing else then for the first few tracks, maybe with time the rest of the album will come to mean something else to me. It feels like if you were to develop a truly intimate relationship with this album, if what she was saying really struck a nerve with you, you would know and love every nook and cranny, which I suppose can be said for just about any album. My problem is that I just can't make that initial intimate connection past the first 20 minutes. Maybe that's just me though.
Words: Ollie Lucas