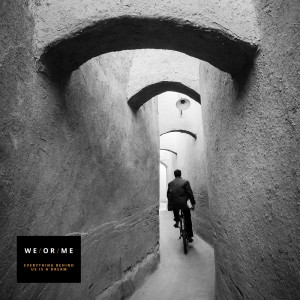 On his second full-length album under the We/Or/Me moniker, Everything Behind Us is a Dream, Irish/Iranian singer-songwriter Bahhaj Taherzadeh defines simple, emotion-riddled Americanesque folk to a tee. Not unlike his first outing, Ghostwriter EP, or his first LP, The Walking Hour, We/Or/Me is a project entirely reliant on simplistic instrumentation, but that isn't to say that Taherzadeh has a jejune vision in mind. Seeking aegis in the straightforward, albeit vivid illustrations of traditional Americana from a thematic standpoint paints a simple picture, yes, but also one of understated beauty. The light brushings of acoustic instrumentation on Everything Behind Us is a Dream, featuring primarily piano and guitar overtones above all else, create a soundscape that consistently comes across as ethereal and, henceforth, indeed, dreamlike.
Everything about the album is unapologetically Greenwich from the standpoint of instrumental clarity. Taherzadeh himself keenly expresses his knowledge of the inspirations for his vibe and wears them on his sleeve, even mentioning Bob Dylan himself on 'The Long Goodbye', which yearns much in a similar, but not quite carbon, pattern akin to the bard's bag of old-school classics.
Taherzadeh does veer off the charted course of the good, albeit typical, folk album in the form of songs like 'Haifa Bay', in which he wears something else entirely on his sleeve: his Middle Eastern roots. Highlighting the beauty of his individualistic roots, introducing an individualistic culture through a universal sound, is far from the worst way of relating one's life story to others. Yet, follow-up track 'Half-Light' indicates that, perhaps, the singer-songwriter has struggled with finding himself in the ever-expansive world that he finds himself in. It's at this moment that We/Or/Me's latest becomes penultimate listening – when Taherzadeh's allows his audience to break through the dreamy veneer of his calming, pensive throwback folk and more directly into the heart of his person as a whole.
Words: Jonathan Frahm