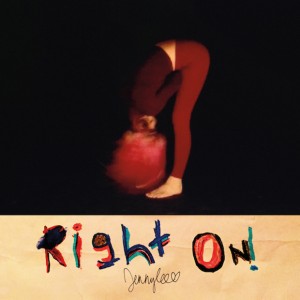 Right On! is the first solo outing from jennylee, one quarter of Warpaint. As a member of a band with such a distinctive sound, you always wonder where a solo project might land – will it sound so wildly different as to be unrecognisable or be so similar as to be undistinguishable from the real thing? Here, jennylee has largely succeeded in striking the balance – this is not heavily removed from Warpaint's trademark reverb-heavy music, full of space and atmosphere, but jennylee clearly has plenty of fresh ideas she wants to explore.
While some Warpaint fans might be left feeling a sense of almost-but-not-quite, this is a set that displays more than a little potential – and makes you wonder what twists in approach there might be on the next record from the band. There are several moments when you are truly sucked into the landscape of this record. She is definitely assured, sounding like a woman making her own path yet, particularly as she strips back some of the layers of sound to produce a more folky sound – allowing the listener to get closer to the actual songwriting beneath the wall of sound.
At times, this can make it sound as though something is missing, but on the whole this is a valuable addition to any Warpaint fan's record collection. This is a record which reminds us just how great Warpaint could end up being, while also perhaps being the birth of an exciting solo foray.