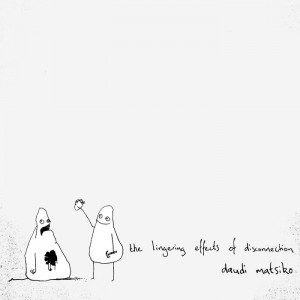 Of the lengthy amalgam of folk acts claiming to be eclectic in the world these days, Daudi Matsiko has found his own winning formula of proof in a sense that casts his individualistic stylings above your run of the mill mom-and-pop jukebox cover band to provide something truly, purely, and uniquely uninhibited. A masterful musician in and out of the studio, Matsiko has proven in his prior effort, A Brief Introduction to Failure, how to work a musical ebb and flow from every corner of a full delivery; deceivingly simplistic, his songs of lament have a natural knack for wiggling into a listener's mind and affecting the core of their emotions.
One would initially surmise that this was yet again just another guy with his guitar, and while that would most certainly be fine, Matsiko remains clever enough about his work to bring in tinges and oodles of outwards synth, bombastic horns, and ambient reverb in equal measure. On top of this, his ethereal, low-key vocals spread across redolent melodies, drenched in a feeling of crack humor through the lens of a soul mired in desperation, come across on The Lingering Effects of Disconnection as that much more thoughtful and anointed in world weary sentiments than his past work, and it shines clearly throughout.
On the overall, one would not be out of bounds to call Matsiko's work equal parts achingly human and therapeutically, well, human. Rarely would you seek a modern bard claiming honesty in all parts that means it with such vigor as Matsiko, and through the folds of his reserved and calculating delivery, it's obvious that Matsiko knows how to pull on the heartstrings thanks in due part to his own experiences. That he's chosen to so generously lay his heart out on the table as he sings of The Lingering Effects of Disconnection comes to the benefit of astute listeners.
Words: Jonathan Frahm